Posts tagged
J. Mendel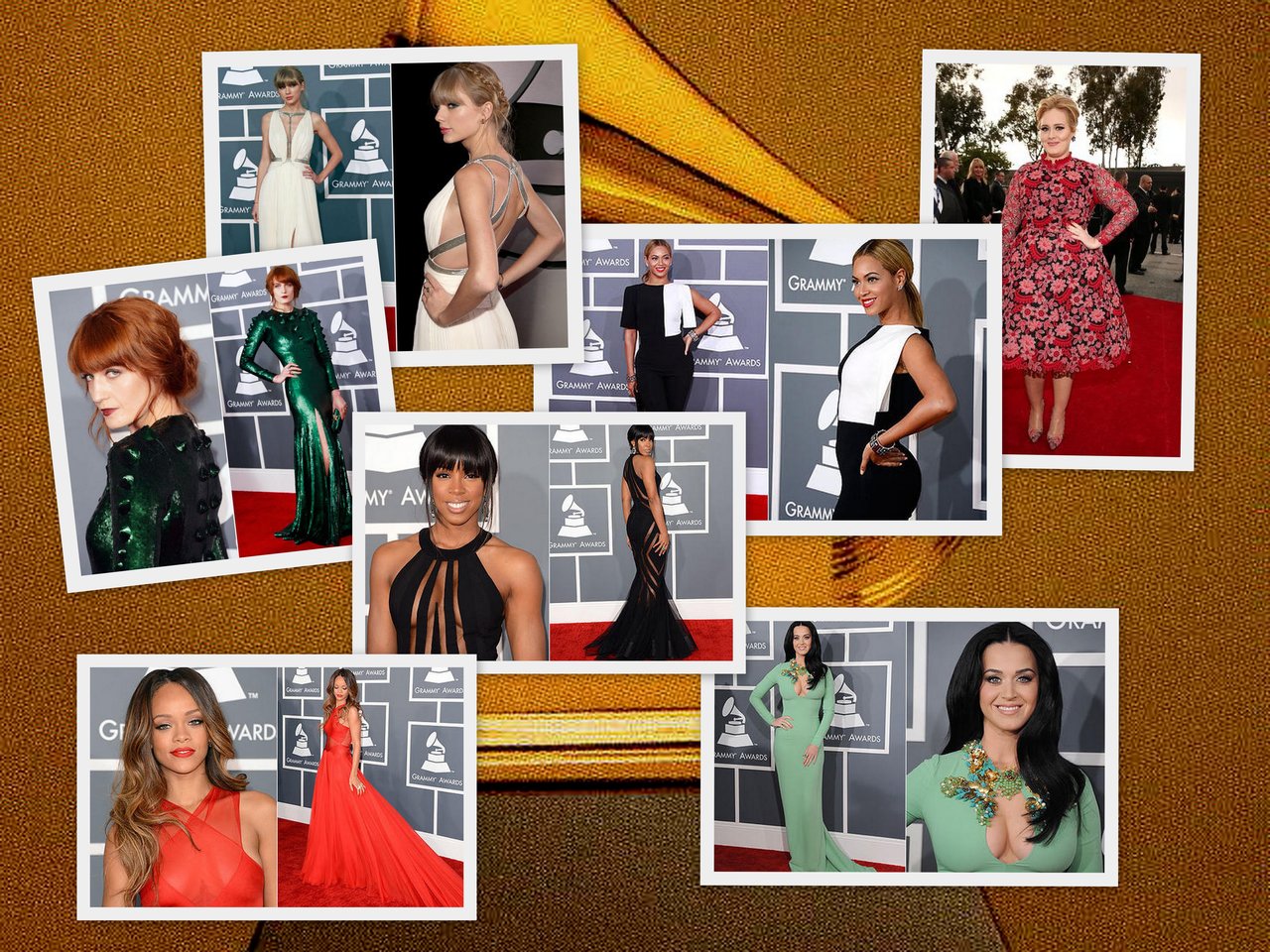 Best dressed and worst dressed are fairly subjective. So this Grammys, we're giving you a look at the seven red carpet appearances that you should know.
1. Taylor Swift in J.Mendel - A mixed bag on this one from critics, personally we like the grecian-dominatrix look, but admittedly it's not her best.
2. Florence Welch in Givenchy - The reviews with this were all over the place, but either way it's worth seeing this surely Jurassic Park-inspired ensemble. (And it's worth noting that emerald green is the color of 2013.)
3. Kelly Rowland in Georges Chakra Couture - It seems like the halftime show wasn't the only boost to this former Destiny's Child member's career. This dress has elevated her to style stardom by critics and fans alike.
4. Rihanna in Azzedine Alaia - This was probably the biggest red carpet surprise of the night, with her pure elegance blowing the disco ball-wearing attendees straight out of the water. People are dying over this more classic look, and we are right there with them.
5. Beyonce in OSMAN by Osman Yousefzada - Bey can do no wrong, so basically everyone should know what she's wearing. This pants option is a pseudo-fashion risk, yet not as buzz-worthy as some of the others.
6. Adele in Valentino - Yet another look that ran the spectrum of the critics' picks. Some love this look, while others thought it was a bit dowdy and overrun with the floral print. We're somewhere in the middle, but she definitely stood out.
7. Katy Perry in Gucci - This one is universally not liked, between the cleavage and the in-your-face spring green color. We're right on board with that.
Stay tuned for our Oscars coverage in two weeks!
Photo credit: latimes.com
As best friends, we might see the world a little differently. While the Emmys are great for fashion-gazing, we were on a mission to scope out a style bestie, obviously based on what they were wearing. Our criteria was simple, this person had to be dressed fabulously and bring something extra to the bestie table. I mean, you wouldn't buy a skirt without asking your best friend if it looked good on you, right? Here are our top five contenders, let the games begin!
1. Sofia Vergara (in Zuhair Murad)
Always one of the most beautiful women on the red carpet, she usually plays it consistent with either an architectural dress or something pageanty by Carolina Herrera (we know, we're disturbed by the notion too). But this emerald sequined number is a step out of her comfort zone, and on top of it she looks like a mermaid. Since we're so over vampires and we've always wanted to learn how to breathe underwater (and talk to dolphins), she's in!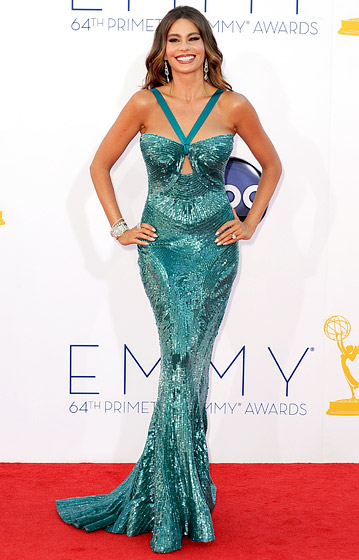 2. Emily VanCamp (in J. Mendel)
Not only is she stunning in this ethereal gown, but the color makes her look just as badass as Emily Thorne (it's always better to have someone like that in your inner circle). Plus did anyone notice the bow on her wrist? Obviously it's a friendship bracelet, this girl knows the value of showing off your bestie love. Don't be surprised if you see us arm-in-arm with her at the next awards show.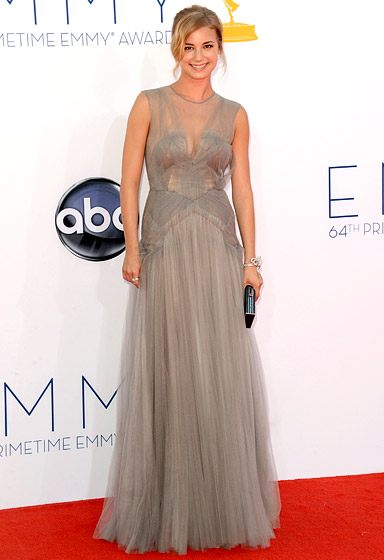 3. Christine Baranski (in the shortest, shiniest dress we've ever seen)
We know what you're thinking, your eyes hurt. However, who wouldn't want to be best friends with someone who doesn't give a @$#! about her age when it comes to sequined minidresses? Plus, any style risk that we take would pale in comparison to this, making it much easier to divert ridicule.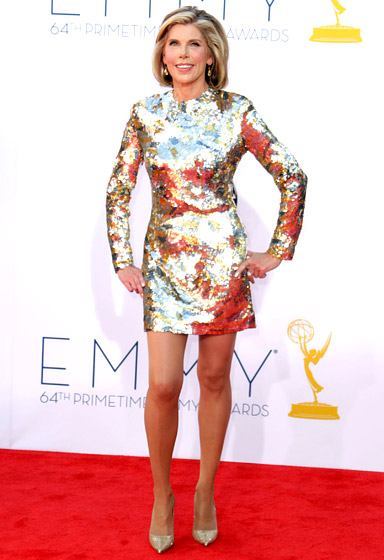 4. Heidi Klum (in Alexandre Vauthier)
After a particularly bad breakup, one of us (no, we're not telling who) was resigned to a week in terry cloth tracksuits before friends reminded how key it is to look our fashioniSTA best while on the rebound. Clearly, Heidi could be a friend like this, because in her barely-turquoise gown, she sends a single message to Seal: Eat. Your. Heart. Out.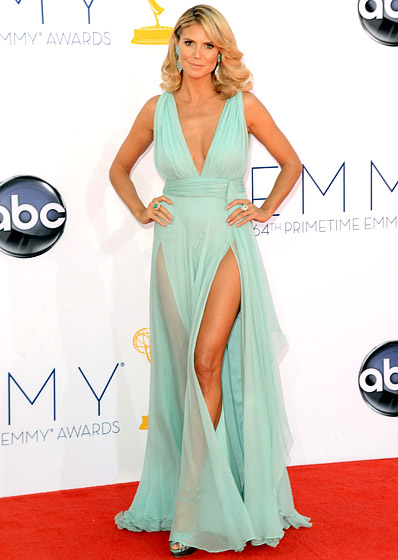 5. Lucy Liu (in Versace)
We've loved Lucy Liu ever since her Charlie's Angels days. (I mean, seriously, who didn't love her then?) We loved her even more last night in her heavy metal Versace dress. We're a sucker for sequin - the shinier, the better. We give her bestie bonus points for usability. Need to check lip gloss application? Just look down to get a perfect reflection.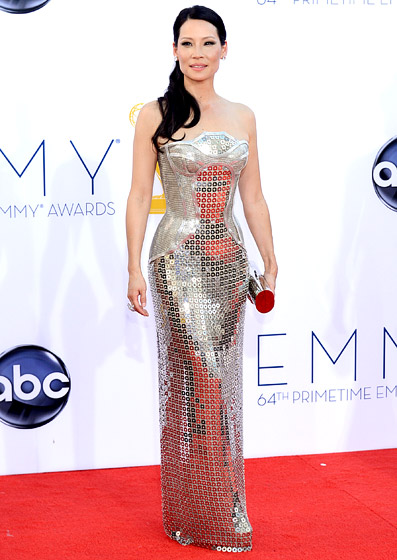 ~Ashley and Meredith, FashioniSTAs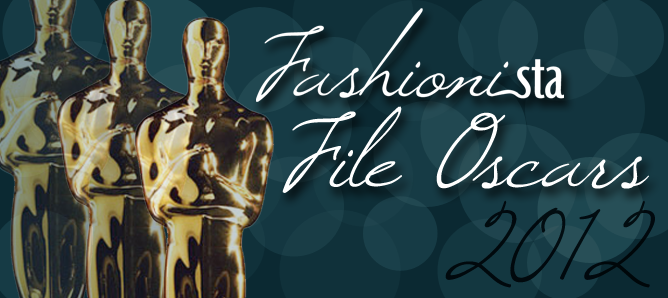 One of the biggest fashion nights of the year has finally happened, and we are so thrilled that there was actually some glamour walking down the red carpet.  From the style winners to the weirdest walking down the carpet (ashes, anyone?), there were plenty of gorgeous and gaudy gowns from which to choose. Yes, white dresses did seem to reign supreme, on the likes of Shailene Woodley and Rooney Mara, but we saw a sneak peek into the Fall 2012 world with touches of gold lamé on Stacy Keibler and Meryl Streep. Obviously the best dressed of the night was Miss Piggy, with Kermit her always-in-style arm candy, but we've racked our fashion brains to come up with those that we think are a close second, or third, or fourth…
Ashley's Picks
Best Dressed: Sarah Burton for Alexander McQueen hit a home run this year with Jessica Chastain. The ornate gold detail is very en trend without being temporary, and it fit her like a glove. I loved that her stylist kept her hair loose and picked neutral jewelry, it was the perfect complement to an intricate dress. Glenn Close also looked phenomenal in Zac Posen, and had she removed the jacket for a red carpet pic or two, she might have rivaled Jessica.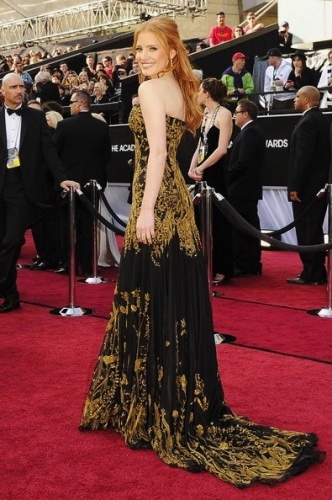 Worst Dressed: While there were definitely gaudier dresses on the red carpet, Anna Faris in Diane von Furstenberg missed her fashion potential entirely. For a young girl with great features, she ended up looking old in the dress silhouette and dated with the short blonde bob.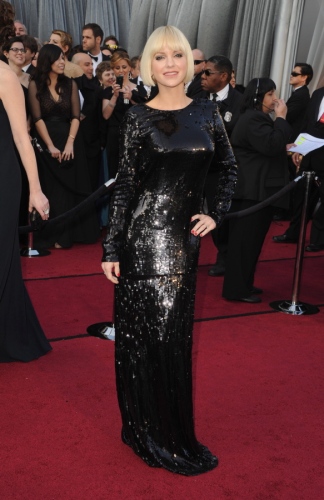 Best Red Carpet Rookie: In probably the most flattering gown I've ever seen, Octavia Spencer looked unbelievable in Tadashi Shoji. The silhouette made wearing white possible on any body type, and the contrasting metallic sparkle against her skin was breathtaking. It's not easy to look good in close-up shots, but Octavia proved that she has what it takes to be a style and Oscar winner.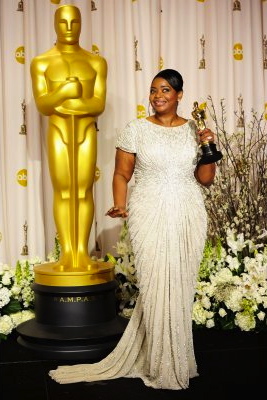 Biggest Comeback: Kristen Wiig has almost fully recovered from her choker incident at the SAG Awards. While her J. Mendel tiered dress wasn't a style grand slam, it was a welcome improvement and definitely a step in the right direction. With the right accessories and an up-do, this look could have been sensational.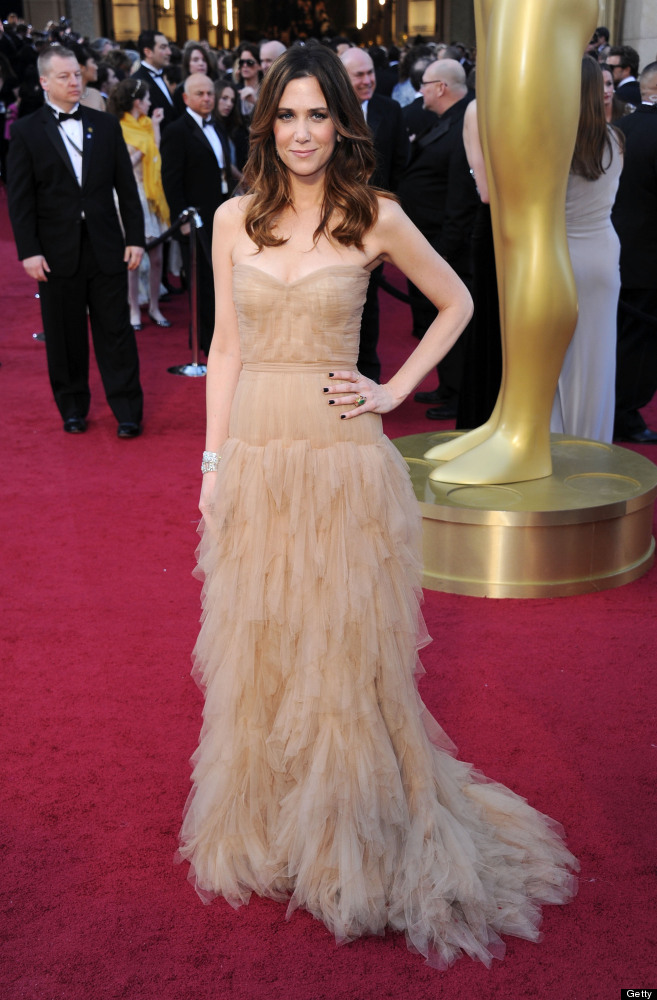 Best Couple: Jean Dujardin and Alexandra Lamy looked effortlessly glamorous without being boring or over-the-top. I guess it pays to be from France.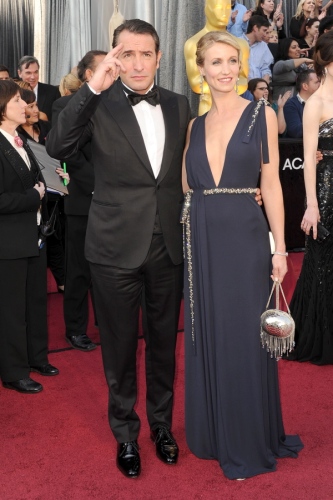 Leslie's Picks
Best Dressed: Octavia Spencer in Tadashi Shoji. She looked spectacular top match her well deserved Oscar award. It showed that even woman with real curves can still have an Oscar winning red carpet moment. I felt that her look was flawless with the pull of the dress coming towards the front extenuating a smaller form waist and giving the puppies some love! Her hair pulled back with a small beehive bump was adorable and makeup was light and natural. I loved everything about her choice down to her Neil Lane clutch, xxxxx.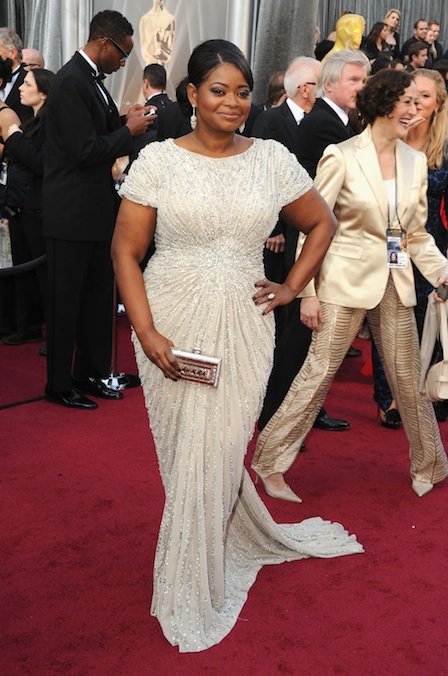 Worst Dressed: Melissa McCarthy in Marina Rinaldi. The Grecian inspired gown didn't strike me as flattering nor glamorous. Plus- size fashion is hard but with, a knock out of the park like Octavia Spencer, I can't say its impossible! I've never been a fan of ¾ sleeve nor am I a fan of a bell sleeve period. I find it cuts, if not worn correctly, people off and make their arm shorter and stubbier. The rhinestone encrust on collar and empire waist put too much attention to her front. I would have loved to see her in something a little more subtle. LESS IS ALWAYS BETTER.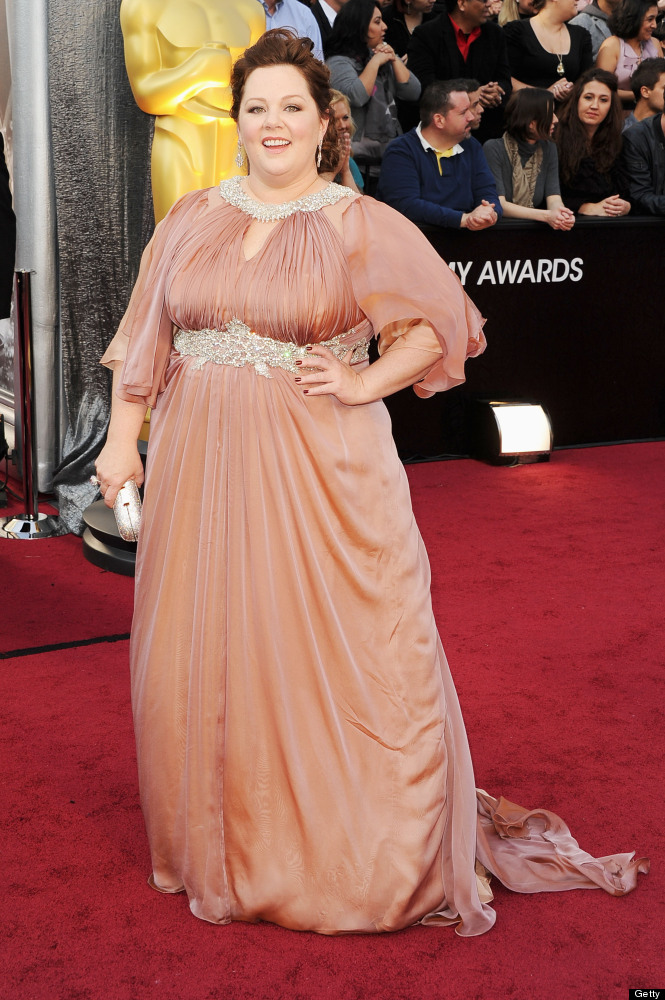 Biggest Comeback: Meryl Streep in Lanvin. She's always been an Oscar nominee favorite but her fashion…not so much. I really think she hit a home run ( all these baseball analogies?!). The gold lame wrap was elegant and a new color to add to her older subtle color choices. Bravo, more than well deserved.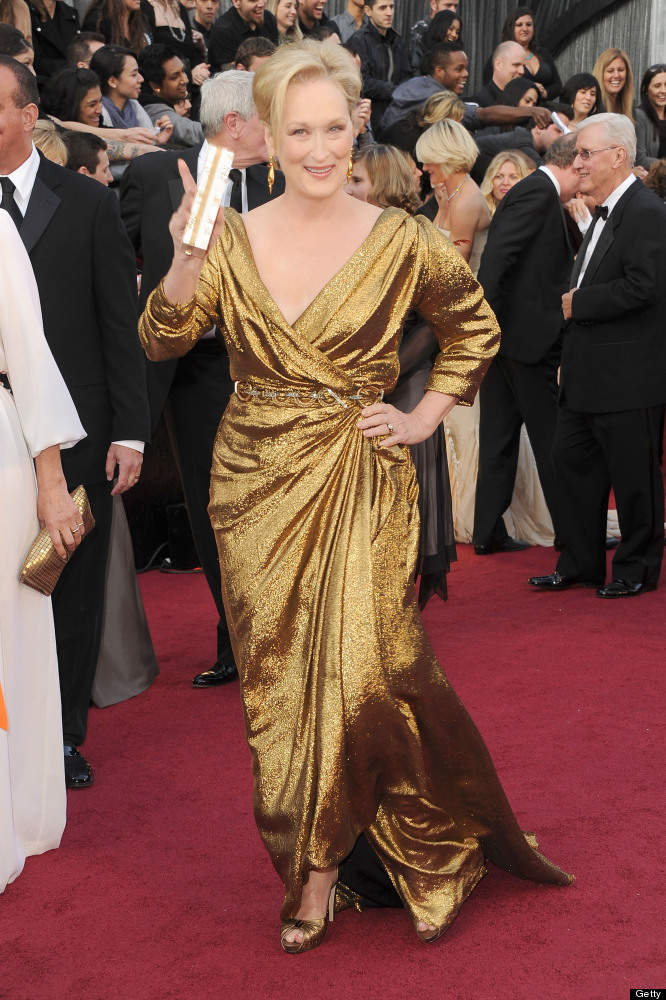 Best Red Carpet Rookie: I'd like to give a shot out to Rose Byrne in Vivienne Westwood. The hilarious Bridesmaid star was astonishing in her black one shoulder sequin get up. Making a statement is key; she nailed it. I believe her hair did it for me, superb!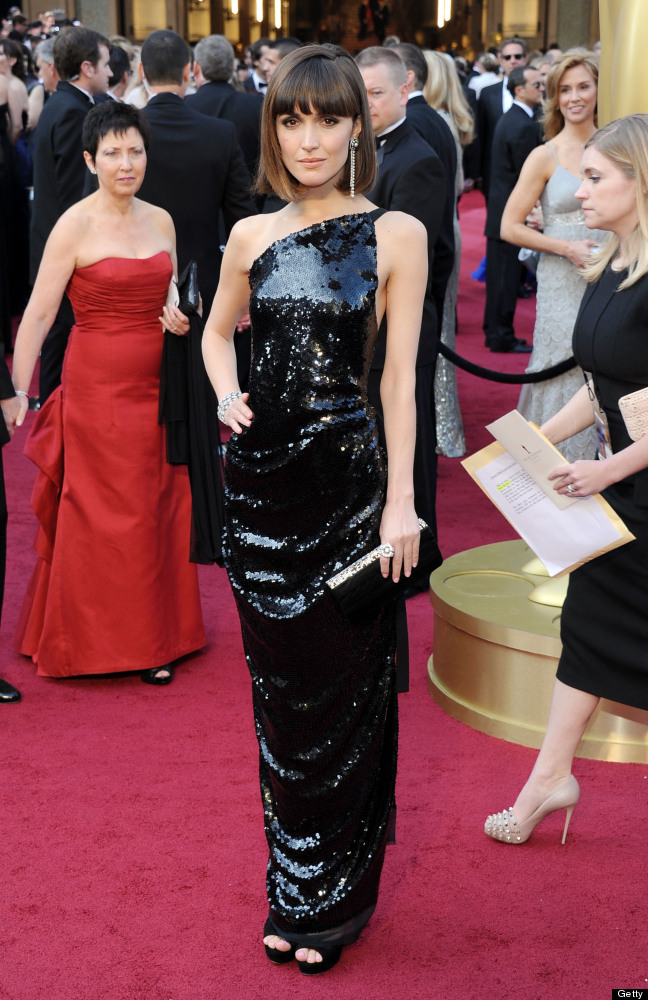 Best Couple: I hate couples.
Kim's Picks
Best Dressed: Gwyneth Paltrow in Tom Ford. She looked like she was emerging from a milk waterfall and I loved it. So sleek and effortless.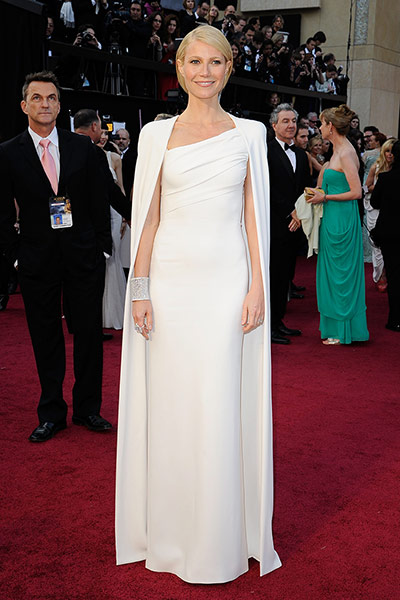 Worst Dressed: Sacha Baron Cohen in character from his new movie "The Dictator." The Oscars are no time for publicity stunts, good sir. Emma Stone, who chose an overstated Giambattista Valli dress, was a huge disappointment. She looked flawless on the carpet all season, and now this.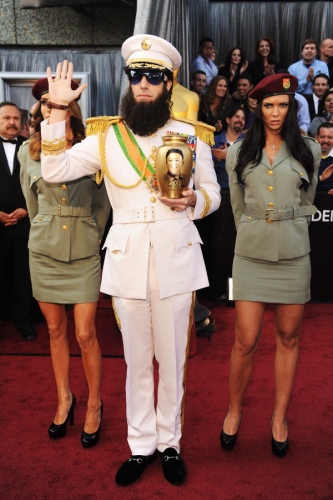 Biggest Comeback: Melissa McCarthy in Marina Rinaldi… while the choice is still questionable, and I can certainly understand the perils that plus-size women face with formal wear, this ensemble is absolutely a step in the right direction.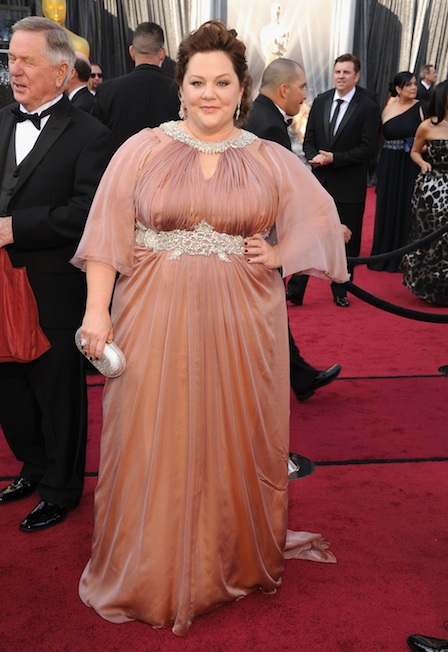 Best Red Carpet Rookie: Jessica Chastain in Alexander McQueen. Completely glamorous… in fact, she might have been the MOST glamorous of the night!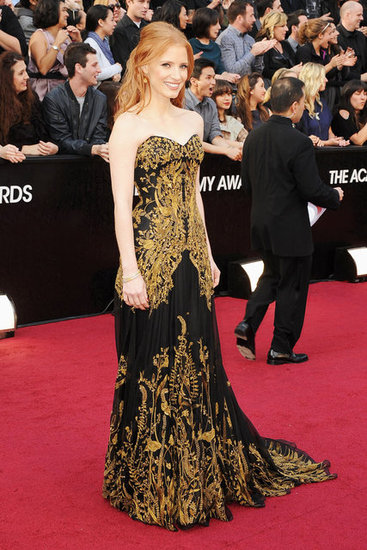 Best Couple: George Clooney & Stacy Keibler (who wore Marchesa). She looked so appropriate for the event and they both simply sparkled. The Pitt-Jolie team just looked soooo severe. Booo, hiss.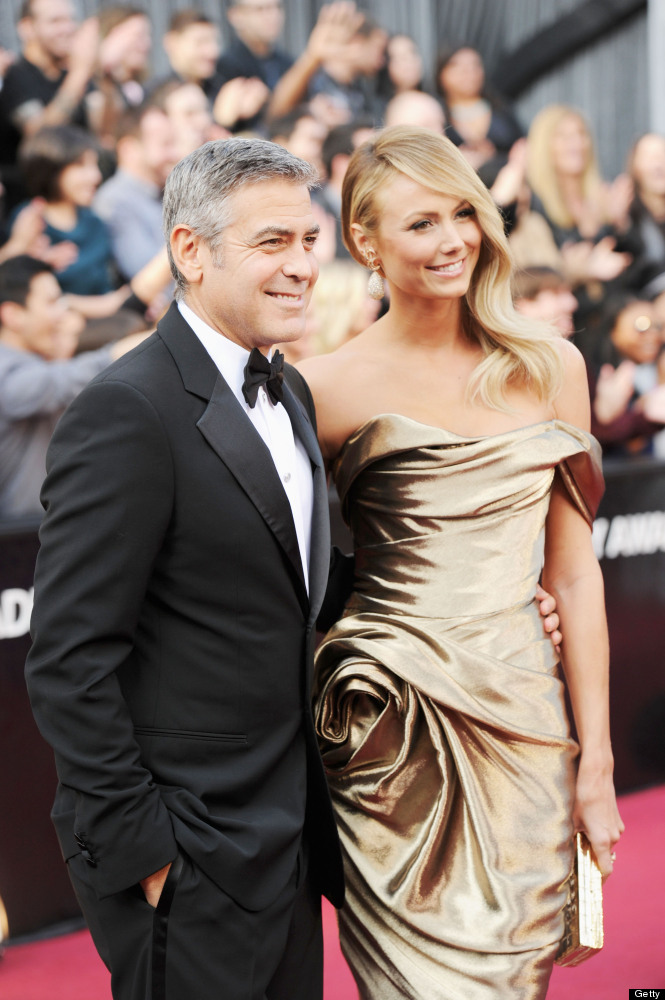 Kristen's Picks
Best Dressed: Milla Jovovich in Elie Saab was the epitome of old-Hollywood-turned-modern glamour. She has the perfect complexion to pull off a dress like this with a deep red lip and a classic wavy up-do.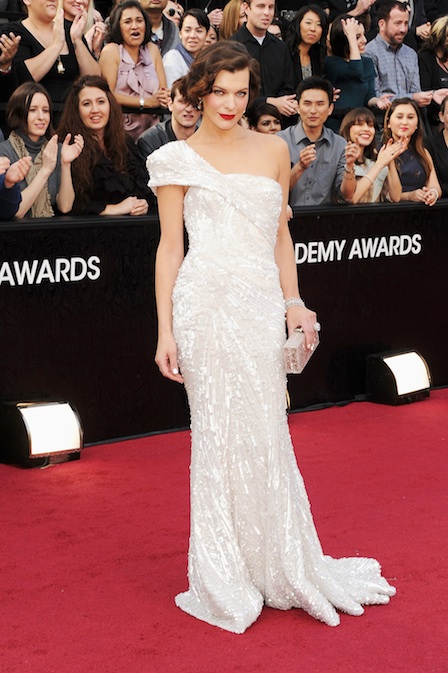 Worst Dressed: Sherri Shepherd's bright blue Grecian number was not flattering on her. It was too much boob that it ended up looking kind of messy up top.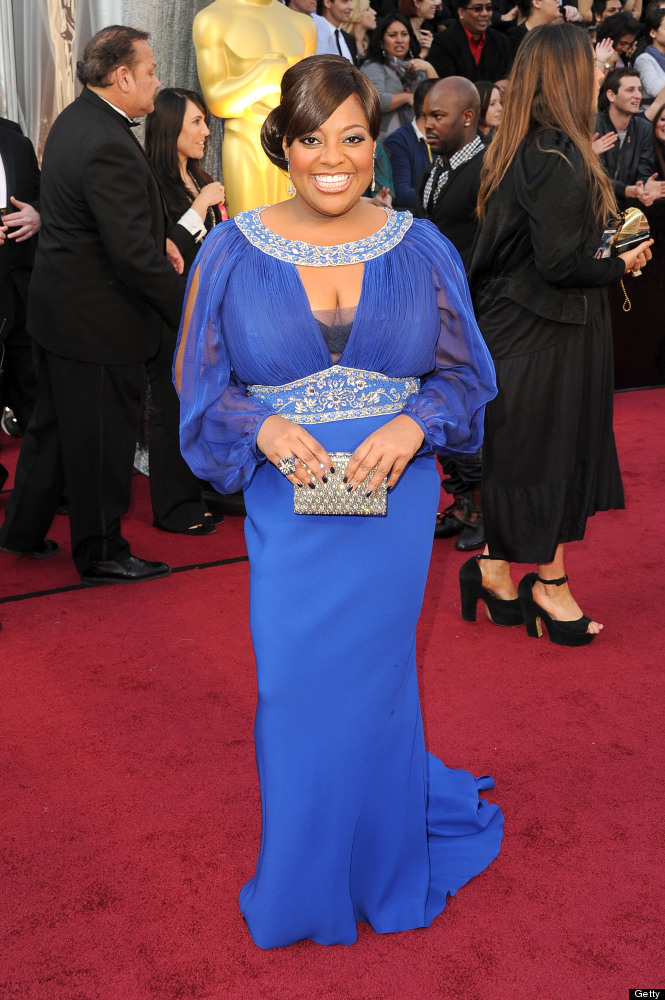 Best Red Carpet Rookie: Although Kate Mara wasn't nominated, she donned the designer of the night - Elie Saab - and looked great!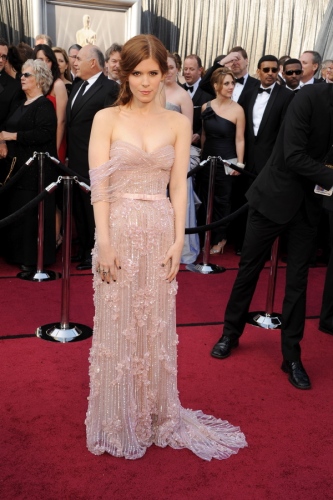 Best Couple: Jean Dujardin and Alexandra Lamy. Classy and sophisticated…plus he's extremely handsome, that doesn't hurt.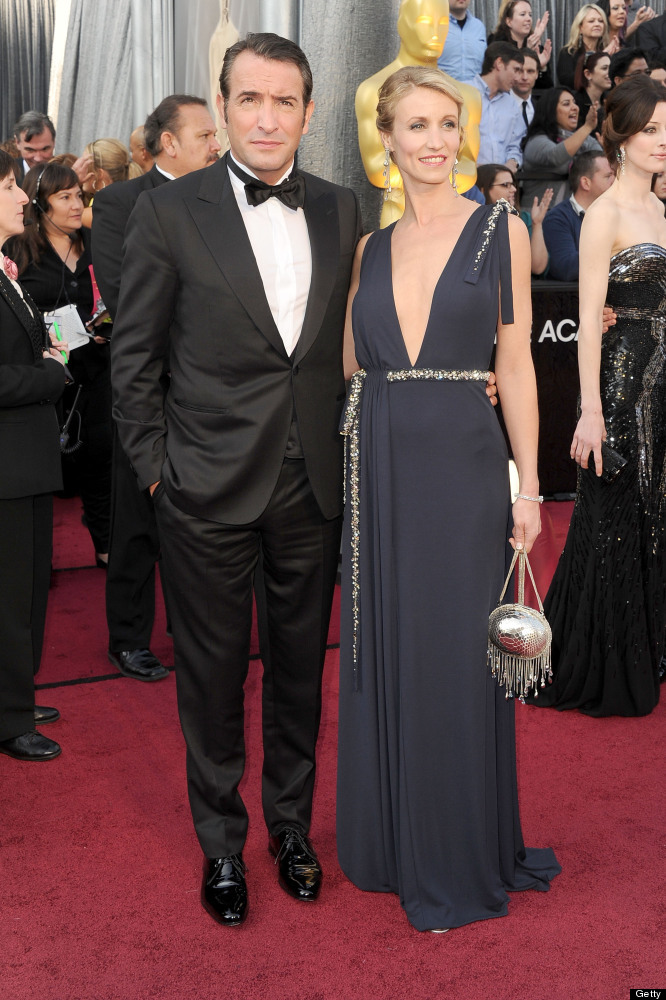 That concludes awards season! Tell us which celebs made your best and worst dressed lists on Facebook (www.facebook.com/staconsignment) or on Twitter (www.twitter.com/staconsignment)!