Posts tagged
Halloween costume
Halloween Costumes for the FashioniSTA in All of Us
Stumped about your Halloween costume? That seems to be a recurring theme among many fashioniSTAs this year. Instead of going as a slutty train conductor, we'll give you some glammed-up options that will make you a style-maker in the Halloween game.
Cruella de Vil
She may have tried to terrify over a hundred adorable puppies, but at least she did it in style. While we certainly don't condone dog-napping, it doesn't mean that you can't channel her style this Halloween. This is the perfect opportunity to break out that LBD that you somehow haven't gotten to wear as much lately. Pair a tailored black dress with an oversized faux fur coat in either an off-white color or a daring Dalmatian print. This is great especially for a chilly Halloween, but should you not be into bundling up, you can always sport a smaller stole. For a truly Cruella look, don red, satin evening gloves, a pair of jade earrings, a large cocktail ring, and carry that signature cigarette holder. Try a thin fishnet tight and pointy-toed heels, and to really cement the character, either go with a black and white wig or tease your natural hair.
And of course to portray the woman with the highest cheekbones known to man, break out the bronzer and contour yourself a supernatural bone structure (for a mini Cruella makeup overview, click here). Finish off your makeup with a dramatic smokey eye and a red lip, bring the crazy and you can color yourself Cruella. Puppies not included.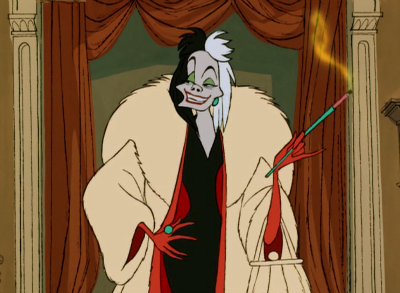 Mad Hatter/Willy Wonka
These are two equally stylish costumes that can be almost interchangeable with just a few tweaks. To be the Mad Hatter, first grab yourself a fitted blazer in a deep jewel tone - think plum or green. You can pair this with any fitted top of your choosing, just make sure that your neck has enough room for an oversized bow tie. Whether you go for a classic black bow tie or you mix it up with a crazy print, these are generally inexpensive, and you can always just use a piece of thick ribbon. Go with a shorter circle skirt on the bottom in any color, and finish off the look with tights and a top hat (feel free to go with a mini top hat!). For an added detail, take an index card and write 10/6 and stick it in the hat band.
To turn this Hatter into Wonka, go with a velvet blazer and simply take out the index card and spray paint it gold. Carry your newly made golden ticket and a couple chocolate bars and you'll be the candy man himself in no time!
Couture Clown
I'm not sure if all of you saw the Bratz movie that came out a few years ago. No? Ok well, allow me to fill you in on the greatest clown costumes I've ever seen. The art to finding style inspiration is to look in unexpected places, so don't judge my taste in movies just yet. The easiest parts of this costume are the white tights and the black shoes. For the mini top hat, they are available at a bunch of costume shops online, and I also stumbled upon some at H&M. You can also make a top hat using two black felt circles and gluing a thick piece of black felt between the circles (for a tutorial, click here). Take a piece of tulle about a foot long and tie it around the base of the hat for added texture.
For the outfit, grab a colorful circle skirt and stuff a tulle petticoat underneath. Or go with a black or white skirt and top it off with a colorful top. You can play around with these two pieces, but I would suggest going with a sweetheart corset top with piping and adding a colorful, short-sleeved, fitted jacket. You don't need to go high-end with this, you can grab anything that has a bright color palette or pattern and mix them together. This is the perfect time to mix patterns and look great! The most important touch of this look is the makeup. Take a shimmer cream shadow in a bright color and draw an oversized diamond shape around one of your eyes. Fill it in and place self-adhesive rhinestones on each of the four corners. Ta-da you look like you're with the chicest circus in town!
Eloise
You'll look rawther chic (that's French for fashionable) dressed up as me, Eloise! To go as the most famous Plaza resident, grab a shorter black skirt and a white, short-sleeved button-down and you're almost there. For complete authenticity, go with a Peter Pan collar and a ruffled front with slightly puffed sleeves. Pretty specific, but there are also a ton of other options out there that will work.
If you have black suspenders lying around, I'm concerned on a number of levels, but they will come in handy for this look. If you happen to not own any, black ribbon will look great pinned to look like suspenders. Sport white knee socks and black Mary Jane flats, and top off your look with a red bow headband. This is also a great look because you can literally roll out of bed and your hair will be Halloween-appropriate (and you also get to wear flats, which is a nice relief).
To go the extra mile, round up a skinny pug dog (as if there is any such thing) to follow you around as your token Weenie.
If all else fails, you can always throw on a wrap dress, a pair of demure pumps, put an oversized sapphire on your left ring finger and dazzle as Kate Middleton. British accent optional.
~Ashley, FashioniSTA
If there's one lady to watch every Halloween, that would be Heidi Klum. I'm not sure how this woman manages to host Project Runway and run multiple businesses while managing to pull off these Halloween masterpieces. Oh right, she has a Halloween costume designer. Now I'm insanely jealous of her on a number of levels, but until I have my own costume designer on retainer for a single holiday, I'll be living vicariously through my favorite Heidi Halloween costumes.
Garden of Eden
Leave it to Heidi Klum to take a biblical reference and add sparkles to it. Dressed as a forbidden fruit/snake combination, with Seal as a blonde Eve, Heidi definitely took her costume to the limit. Not only does that apple probably weigh more than she does, but between the fangs, the face paint and the snake head, she really committed to this concept. To say that it blew the "sexy cop" costumes out of the water is an understatement.
Goddess Kali
This costume marks the beginning of Heidi's head-to-toe body paint period. With six additional arms somehow adhered to her body, and with the embellished headpiece/shrunken heads, this costume probably took about as long to make as the last Pirates of the Caribbean movie. Although the backlash from this costume wasn't all positive, the intricate detail and over-the-top use of body paint sealed Heidi's place in the Halloween hall of fame. The fact that I can't tell which arms are actually hers is just an additional fun guessing game. By the way, are those red contacts?
Lady Godiva
Another striking historical allusion from Heidi. Well done with the horse, by the way. My favorite thing about Halloween is that you can never go too over-the-top (although I am a little concerned about how she ended up getting the horse into the party). This costume was probably a challenge at first, what with the whole Lady-Godiva-was-naked thing that her designer had to work with. But I guess there's nothing that a nude-colored body suit with discreetly-placed sparkles can't overcome. The long, blonde wig is pretty much the only part of this concept that any of us normal people can hope to recreate, which leaves this concept to the celebrities.
Robot Superhero
When you literally cannot distinguish who is wearing the costume, it's either a really awful Garfield costume, or it's incredibly awesome. Heidi's costume from last year fell into the latter category, as she not only painted the top half of her body in solid, purple glitter paint, but she also spent the night walking on robotic stilts. Now I've never had to make myself three feet taller, but I have painted my entire face, and let me tell you, the removal was a two-day process. The dedication was pretty remarkable on Heidi's part, and I'm only slightly confused as to how a person can look so skinny as a robot. The fact that the supermodel sported a Tyra Banks hairline only added to the costume.
Since this year the supermodel is hosting two parties, she's doubling up on the costumes. From the sneak peek that she's let people see, she's going for a crazed monkey for her NYC party (below, right), and for her Vegas bash, she'll be decked out as a…human body (below, left). It's like a modern take on the traditional skeleton costume, only way creepier. When there is exposed muscle and organs involved, it tends to take a turn for the creepy. Is it weird that I'm still dying to see the finished products?
~Ashley, FashioniSTA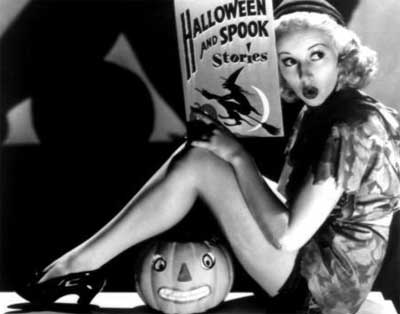 Happy hump day ladies! We only have to endure three more days this work week before our alter egos get to come out to play! Can't wait till then to spread some Halloween fear? Don't fret, we've come up with some fun and affordable ways you can incorporate your Halloween spirit into everyday wear!
Bewitchy Jewels
Try adding a touch of creepiness to your jewelry this week. Remember those neon green and orange spider rings we wore as kids, why not bring 'em back and pass them around the office? Or for a more grown up look, mix a little scary-glam into your accessories. Betsey Johnson has a ton of Halloween inspired jewelry – actually in true Betsey fashion, we're gonna have to guess that this jewelry is most likely part of her regular line. From rhinestone encrusted skull earrings (shown below, right) to spider adorned bangles, you can count on Betsey for a funky, one of a kind piece to add to any outfit. Or if you're looking for pieces you can wear over and over again, check out Stella & Dot's Renegade line. Mix the Renegade cluster bracelet (shown below, left) with a rhinestone snake wrap for a touch of Halloween creepiness, then after the holiday is over, mix it with all your other bangles throughout the fall and winter seasons for an edgier look.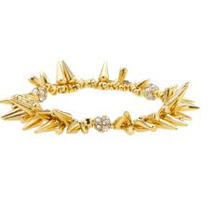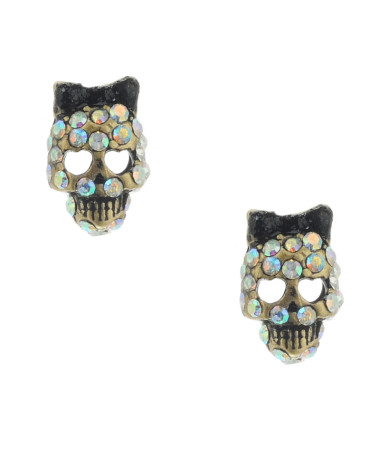 Spooktacular Makeup
Sure being at the office or out running an errand or two may not warrant full on face paint, but there are simple make up tricks that can bring a little haute to Halloween makeup details. To glam it up, try cat-like eyeliner, glittery eye shadow, false eyelashes or some colored mascara – but not all at once, we are going for subtle, not clown-like here! Nail polish is also a great way to add a little Halloween spirit to your everyday outfits. Paint all your nails black, leaving one blank, then paint that nude nail orange and add a dash of sparkle to one or all of your fingers. If you're looking for something a little more fun, try out a candy corn, ghost or jack-o-lantern design.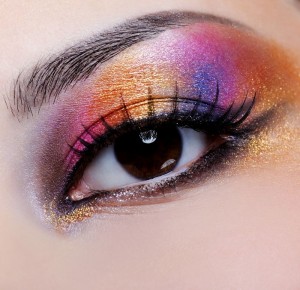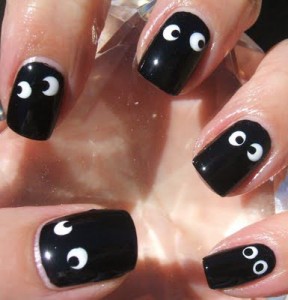 Haunting Finishing Touches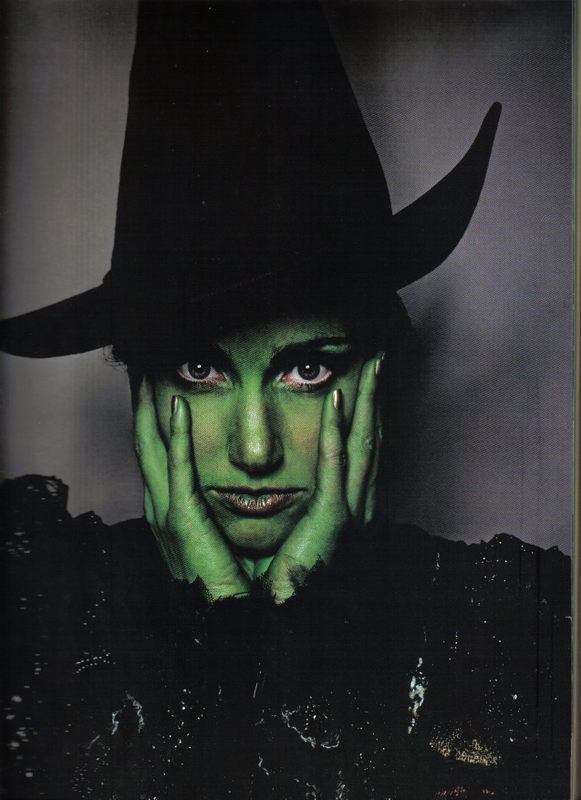 To add a dash of fun to your outfit on Monday, pair a Halloween themed tee, like one with a skeleton or pumpkin print, under a blazer. A tee paired with a fitted blazer is always a yes, especially when that tee has an awesome print on it. If your work is more professional and less business casual, pair a skirt with spider webbed or animal printed stockings and a taller boot to show off just a hint of Halloween spirit.
Channeling your inner good girl? Dig out those ruby red slippers you wore when you were Dorothy that one time in college and pair them with navy cropped pants and a white button down. Top off the look with traditional pig tails with a curl at the end or a sparkly red headband.
Feeling a little wicked? Nothing gets you in the spooky spirit like coordinating different black pieces to create a chic homage to witches everywhere. Go with tight black pants, a sheer black top and a chunky black sweater, accenting your look with a sparkly statement necklace and green nails to bring out your inner Elphaba (right). Top off your look with your favorite betwitching headpiece – whether it's a black feathered headband or a fedora. You can also go the extra witching mile with pointy-toed shoes in black patent or matte leather.
Remember, for a quick fix, mix black with some sparkle for an instant boost of Halloween glam!
~Kristen, FashioniSTA