Posts tagged
Katy Perry
To pick a "best-dressed" from the Grammys has always seemed like an overly ambitious decision to make.  So many stars, so many designers, so many styles who could possibly pick one (or ten) favorites? But from all the looks, there was one that stood out to inspire a unique addition to our wardrobes.  The look we can't wait to embrace was inspired by none other than the sensational Katy Perry.  Katy's unique Valentino dress on the red carpet (the dress that opened Valentino's spring 2014 show in Paris) and her stunning ice blue gown for the after party had one thing in common - tulle.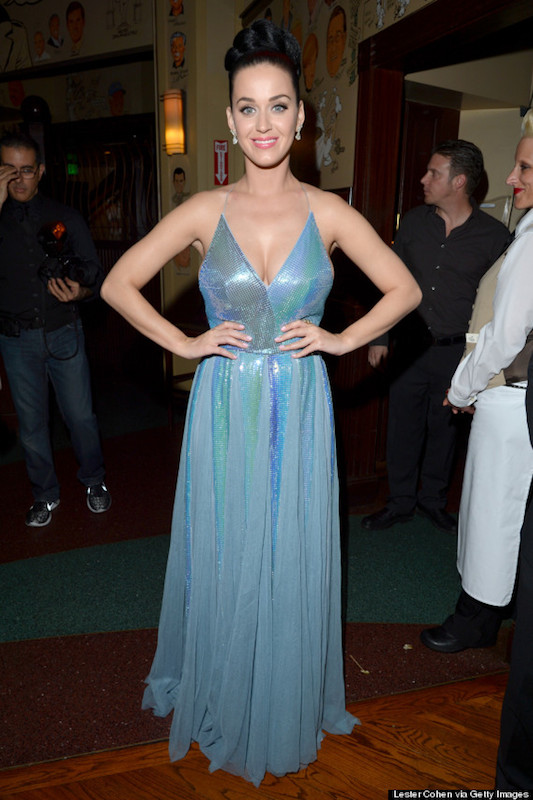 A tulle skirt is definitely the easiest way to incorporate this fairytale fabric.  While the texture itself is whimsical and bold, we like the look of pairing it with a toned down piece like denim or a sweater.  For a more versatile approach, a tulle top is great for layering!  Make it the top layer over a camisole, or the bottom layer under a sweater or jacket.  But wait, it gets better.  Tulle is a great option for this time of year, where it's no longer the cozy holidays, but not yet springtime sunshine.  Tulle's elegant flair hints at the remnants of winter, while its femininity calls for the beauty of springtime.
We can't wait to try incorporate a touch of tulle to our looks!  Thanks Katy Perry for the inspiration, I hope we can rock it as well as you do!
Photos from pintrest.com and huffingtonpost.com
This week is Halloween week at STA! For those of you who have been tuning into our "Perfect Pairing" blog series, we are mixing it up a little this week in honor of the spookiest day of the year. We at STA have unanimously decided that the Perfect Halloween Pair Award goes to Regis & Kelly. Not only are these two on the ball when it comes to covering every pop culture reference in their costumes, they're also not above have 97 costume changes in an hour-long show. I totally endorse this by the way, one costume is for people with one personality.
These two have dressed up as pretty much every pop culture reference from reality television "characters" to real life master chefs to a tribute to High School Musical. Here is a closer look at my favorite costumes:
1. Rachel Zoe and Brad (…and Taylor…and Rodger)
If we had to name a fashion power couple, they would be it. Not only do they dress for a living, but between their voices and catchphrases, it's hard not to talk like them after watching The Rachel Zoe Project. You also know it's a good costume when just a photo of the two of them makes you burst out laughing. The hand gestures, the semi-nasal/Valley voice, the oversized accessories, I can't get enough! The only thing that would've made this costume skit better would've been if it was Gelman who had come out in a bleached, unbrushed wig and threw a Taylor hissy fit.
2. The Kardashians
Kelly Ripa's facial expressions are so priceless that she nailed Kris Jenner with a cropped wig, huge set of hoops, and that signature power pout. But this bit was truly an ensemble production, with pretty much every crew member taking on a different Kardashian character, with Regis occasionally chiming in as the token man's man that is Bruce Jenner. But the best part is the realization that one person can play every female part just by adjusting the wig length…minus Kandy, of course, their long lost Kardashian sister, which had to be played by Art Moore.
3. Real Housewives of NJ
So my bias towards the RHONJ aside, the "Last Supper" skit was the greatest Halloween idea since bite-sized candy. Since the finale to season one of the series was by far the greatest moment in housewives history, obviously it deserved the homage that Regis and Kelly paid, but the combination of real clips and reenactments really took this to another level. Between the hairline and the facial expressions, it's like looking in a mirror, isn't it, Teresa? Just a sidenote, Regis looked a little too authentic as season one Caroline…
This year I think they should revisit this theme and hash out the Teresa/Melissa/Kathy drama…while Gelman dons a knit hat and makes an appearance as Jacqueline's daughter Ashley (Ashlee?).
4. Mary Kate and Ashley Olsen
Putting aside the fact that I'm serious about my love for Elizabeth and James and The Row, I find the Olsen twins to be outrageously satirical. How can you not dress up as them when the only thing you need to do is wear sunglasses and carry Starbucks cups that are bigger than their calves. (P.S. how am I just now seeing the identical similarities between them and Rachel Zoe? Is this a West Coast thing, or are they all secretly from the same gene pool?) There was a very important factor missing in this: Gelman as a resurrected Bob Saget.
5. Katy Perry and Elmo
Ah, the cleavage heard round the Sesame Street universe. This would be good enough with just Kelly and a puppet, but to put Regis in an Elmo costume skyrocketed it to TV gold. I never want to hear another person complain about wearing a uniform, a 70something man had to wear a costume for made exclusively for preschool teachers.
If I could be so bold as to suggest Halloween costumes for them this year, I would recommend an all-Housewives-themed event, with a side of the royal couple, obviously. Am I the only one that desperately wants to see the two of them as Will and Kate? No, I'm not. However, I would happily accept Regis as Charlie Sheen and Kelly Ripa as Nikki Minaj (day day day day day day).
~Ashley, FashioniSTA
The FashioniSTAs are taking on the Grammy Awards! For the most extreme awards show of the season, we don't expect anything less than rock star perfection. Ride along with us as we break down who we thought rocked the red carpet like a catwalk, and who looked like a cat attacked her outfit.
Double Take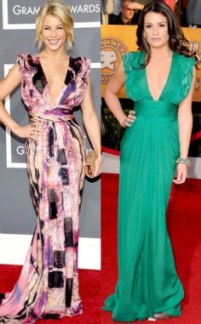 Showing up on the red carpet in the same dress as someone else is a fashion nightmare. But showing up in practically something that someone else has worn is almost as bad. Julianne Hough – who may or may not be the most gorgeous girl on the face of this planet – wore a printed Catherine Malandrino dress, the exact one that Lea Michele wore to last year's SAG Awards. The resemblance wasn't crystal clear at first, since Lea's was an emerald green and Julianne's was a pastel print. However, this cut of this dress is so stunning, that we're not surprised that more than one person wanted to get in on it. Who wore it better? This is a toss-up, Julianne looked like a breath of summertime air in February, but in photos, the solid color of Lea Michele's seemed to work better.
We also had déjà vu when we saw Kim Kardashian in a bronze, draped Kaufman Franco. Flashback to Jennifer Lopez at the Golden Globes in 2009, and you'd swear that they were both wearing that Marchesa dress. While Kim's hair and makeup were bombshell-worthy, the chunky heel didn't work well with the dress – which may or may not have been a little tight. Who wore it better? That better be hypothetical, because in this race, J. Lo is queen.
Speaking of metallic numbers, is it just us or did everyone and their mother wear a gold, sparkly dress? Between Kim Kardashian, Leanne Rimes in Reem Acra, and Heidi Klum in Julien McDonald, there was enough gold to stimulate the US economy. Throw in Selena Gomez in J. Mendel, and you almost need sunglasses. Putting Leann's personal life aside, Heidi Klum still trumps the country singer with her '70s-inspired gown, which looked like it flowed against her body. But Selena puts up quite the fight, making her almost unanimously the best-dressed rookie at this show.
We Sound Off on the Outrageous
The Grammys wouldn't be complete without a couple of looks that could double as Halloween costumes (and we all thought Julie Bowen's SAG pantsuit was a fashion risk). Here are the top four ladies that brought the bizarre, and our fashion verdicts:
1. Nicki Minaj – There is so much going on here, between the head-to-toe Givenchy leopard and the Bride of Frankenstein wig, we'll say this, she's never boring. But at an awards show where anything can happen, this is the place to work the extreme.
Verdict: Fierce, meow! But next time, lose the wig.
2. Katy Perry – Her Armani Privé ensemble, which apparently featured some of the most expensive material money can buy, gave us Katy on fashion steroids. Known for her sequined sweetheart busts, the angel wings really brought it to the edge.
Verdict: You are not a Victoria's Secret Angel, save this for your next costume party.
3. Rihanna – This white Jean Paul Gaultier made her look alarmingly sweet for being practically naked.
Verdict: Hung jury. Half of us think she looked fashion forward and fab, the other half want to flush her toilet-paper-inspired dress.
4. Lady Gaga – The most outrageous entrance award definitely goes to her. But when the egg opened, the outfit underneath was a little…blah. You know Lady Gaga's running out of ensembles when she has to resort to a cocoon entrance.
Verdict: Keep the whole embryo entrance if you want, but birth yourself a new outfit idea.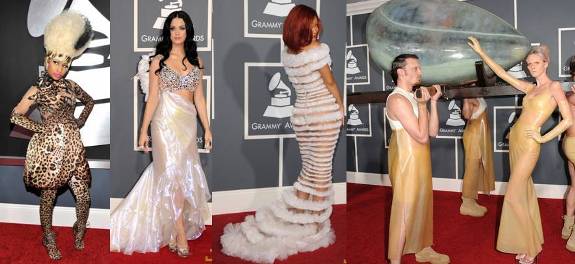 The FashioniSTA Picks
Marisa
Best Dressed: This was a tough one for me because – to be honest – I wasn't blown away by anyone. At least not in a good way… However, if you were to twist my arm, I will give "Best Dressed" to Ciara. Her Emilio Pucci dress was a gorgeous combination of colors for her skin tone – royal blue and shocking white – and the fit was perfection even though it had an intricate cut-out top. Additionally, her accessories and make-up were spot on.
Worst Dressed:  Rihanna – hands down. I was really excited to see what she would wear because her fashion choices are always bold and exciting. But then she showed up wrapped in white tinsel… The dress was allegedly by Jean Paul Gaultier, but I am pretty sure there is a picture of my sister and I decorating the Christmas tree from when I was 6, where I am dressed in the same attire. Only I looked better because I was wearing clothes underneath it. Yikes.
On the Fence: I really wanted to like Florence Welch of Florence + the Machine's Givenchy dress, but the fit was atrocious. The dress was incredibly unique and the pale nude tones complimented her pale skin and red hair perfectly, but the bust was too big and – as a result – the look was incredibly unflattering. I give her ( and her stylist) an A+ for effort, but an F for execution. All that it needed was a trip to the tailor! And I bet Givenchy would have been happy to do it for free since it would have made their dress look a million times better…
Rookie of the Year: Selena Gomez looked beautiful! The J. Mendel dress was simple; yet elegant, the metallic silver-ish, gold color was perfect for an awards show, the cut was sexy, but not vulgar (perfect for her age) and the accessories were right on. Well done! If she dresses like that every time she walks a red carpet, then she has a bright future ahead of her!
Ashley
Best Dressed: Katy Perry's grandmother in Armani Privée. Age-appropriate and bedazzled? Nailed it!  If pressed, Heidi Klum in Julien McDonald could be considered a runner-up (the gold, '70s draping was incredible on her), but this supermodel has nothing on 90-year-old fabulous.
Worst Dressed: Miley Cyrus in Roberto Cavalli. Not only is this dress too old for her, but it didn't fit her properly, which was evident when viewing her top region from the side. The hair is also completely inappropriate, but at least it covered up the potential wardrobe malfunction in the chest area.
On the Fence: Nicole Kidman in Jean Paul Gaultier. If she had worn this to any of the other award shows that she attended this year, it would have looked fantastic. But it's a little too Hollywood glamorous, which doesn't necessarily work at the Grammys. However, her hair made me want to be a better person.
Rookie of the Year: I have the biggest girl crush on Selena Gomez, so I was over the moon that she showed up looking amazing. Everything about this look is perfect, and I thought I couldn't love her any more.
Leslie
Best Dressed: Justin Beiber, DIBS! Sorry ladies I'm the youngest one out of the bunch he's all mine.  I wasn't impressed with anyone at the Grammys, once I saw Justin Beiber he reminded me Justin Timberlake, looks aside, fashion wise. I loved the white Dolce and Gabbana suit with a black bow tie and handkerchief and fresh pair of white sneakers. I thought it was trendy, chic, and a right choice for the youngster. Now only if he would marry me in a few years…sigh.
Worst Dressed: Paramore's Hayley Williams in a Jeremy Scott black sheer pink tutu ensemble, Epic fail. Her fire engine red hair doesn't help either. It was sheer on her belly which made it look trashy and I could see her ugly tattoo through the opaque tights.
On the Fence: Florence Welch in Givenchy Haute Couture swan gown. She brought back Bjork infamous dress back from the dead on a lighter note it looked a lot better on Florence than Bjork. I thought it was pretty but it through me off a little. I wasn't sure if the swan print is really needed maybe if it was a white print be rather than a swan maybe it would appeal to me better. Again, on the fence.
Rookie Winner: Selena Gomez in a gold metallic J. Mendel Dress. It fit her to a T, I thought she looked fantastic I've always been 50-50 with her and the choices she makes at shows but she wowed me, and I think it's also age appropriate.
Kim
Best Dressed: Julianne Hough in Maladrino — the textures were so complimentary (the print, the cut, the ruffles, the colors) and she looked absolutely radiant.  I also really liked Nicole Kidman in Jean Paul Gaul Gaultier — she was widely panned for this ensemble, but I think the colors were incredible on her and it was a really nice change to see her this year in something soft rather than severe.  I was also taken aback by Margaret Cho — the cut was actually flattering, and the color allowed her tattoos to be her accessories, and she ended up looking classy rather than trashy.
Worst Dressed:  Aleesia — you know it's bad when the Jersey Shore stars are better dressed than you.  Lea Michele also fumbled in Emilio Pucci — so fierce, and I don't mean that in a Tyra Banks kind of way.  Runners-Up include Bonnie McKee, Hayley Williams, Willow Smith, and Ricky Martin. Red Carpet Cringes!
On the Fence:  Jenna Ushkowitz in Pamela Dennis.  This could have gone so very wrong, and I can't decide if this is one of those times or if it actually works.  Esperanza Spalding also took a huge risk with an outfit that had waaaaaaay too much going on… but it definitely grew on me!  Same for Eva Longoria in Ashi — a lotta ruffle, a lotta leg.  But in the end… not too shabby??
Rookie of the Year:  I don't even know who this Paz lady is (I had to look her up) but I haven't seen her in any standout red carpet galleries before this.  I thought perhaps the color was a bit too washout for all that white going on below (i.e. her legs), but I love love love this dress, and those shoes!  Such a nice contrast against her long locks, too.  I give you a B for "Breakout Attire."
Check back with us as we go crazy for Oscar fashion! We'll be bringing you our style predictions, so stay tuned!