8 Days of Style to Celebrate the Season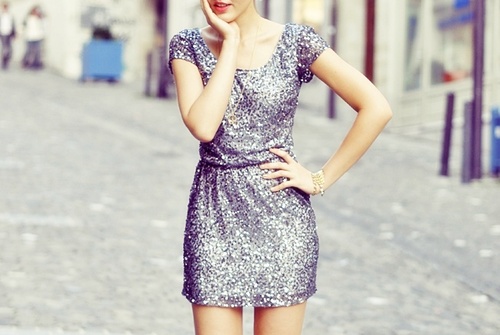 In honor of Hanukkah, we at STA bring you the 8 days of style! Each day we will outfit you (hardy har) with a style survival tip to get you through the busy holiday/New Year's season. From bronzer to bowties, we'll help you create memorable entrances and festive ensembles people remember even after the New Year's champagne has worn off.
First Day of Style – Silver Belles
Gold may be the signature metallic of the season, but for a slightly different spin on sparkle, opt for silver this holiday. One of the best things about silver is that you can pair it with bright cranberry for a fresh, festive look, or style it with black for a classic NYE ensemble. A silver dress will always be a refreshing change from the sea of normal holiday red and basic black dresses at events. For an everyday look, pair silver with winter white for a stunning professional palette. Go with a silver skirt and a white cashmere turtleneck, or try a silver blouse with winter white wool pants to channel a stylish ice queen. To try a darker approach, pair darker silver with black for a twist on a classic color scheme.
Don't stop when it comes to makeup either. Using a gray and silver palette, you can create a smoky eye, adding subtle silver sparkle over the lids. If smoky isn't your thing, colored eyeliner has made a comeback, so grab your silver pencil and go to town. Try top only, bottom only, or both to make your look fashion-forward at your own pace. Should you be completely fearless, go all out with the silver lip trend that has hit the runway. Make sure to add extra gloss on top for a shiny finish so people know it's high fashion and not hypothermia.
Looking to mix your metals? Weaving together silver and gold is not the fashion taboo it once was, and it's all about the shades that you have to work with. I'm not a huge fan of mixed metal jewelry because I think the contrast between the two tones tends to be too stark. Start with softer shades of silver and gold, making sure that you're leaning more towards light slate and champagne tones. Try a few soft gold bangles and alternate them on your arm with lighter silver bracelets. Or cinch a champagne matte dress with a pale silver belt. Stay small to avoid looking like you got dressed in the dark.

You can also use this trend to update your beauty routine. Want to try something just a little different for a night out? Grab a two bottles of round glitter nail polish, like these at Sephora, one in gold and one in silver, and paint your ring finger nails silver and the rest gold. Layer on the coats for full-on glitter and prepare to bring on the holiday sparkle!
Tell us your take on silver on Facebook (www.facebook.com/staconsignment) or Twitter (@STAconsignment). Until tomorrow, fashioniSTAs!
~Ashley, FashioniSTA
Comments are closed.