Eighth Day of Style - Just Add Sparkle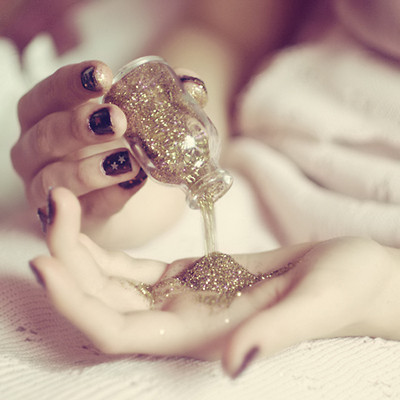 The holiday/NYE season is all about the glitz, and wherever I can get away with wearing a little extra sparkle, I'm all over it. From using a glitter topcoat on your nails to busting out the baubles, there are tons of great ways to infuse your everyday wardrobe with a little sparkle. Breaking out the sequins for a party is a great start, but add a little of that shine to your casual look, and it'll make everyday a mini celebration.
A Pinch of Glitter From Your Head to Your Toes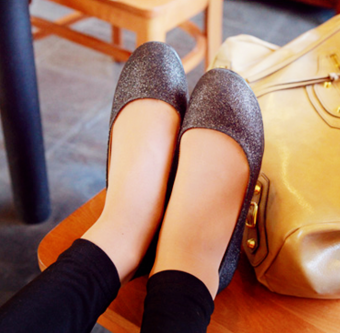 When the weather gets colder, it's easy to slide into a dark-colors-only wardrobe. Don't worry, you can still do that and not look like you've become seasonally depressed. An all-black or all-navy ensemble can look great with a multi-colored or silver glitter flat. To pull together a casual – yet polished – look, start with the pair of dark denim of your choosing (boyfriend, distressed, skinny, etc.). Pair your jeans with either a black tank/blazer, or with a dark cashmere sweater. Finish off the look with a thin, sparkly headband and either a sleek blowout or a messy up-do. Glitter flats also work great with darker jewel tones, such as cranberry or forest green. For a modern look, pair your jewel-toned corduroys with multi-colored glitter flats, topping off the look with a white button-down or a lace top.
For an even subtler look, try a black glitter belt paired with an all-black, fitted ensemble. Or you can always go with solid-color flats that have a sparkle cap toe. It'll add just a tiny dose of glam to a basic outfit. Sparkle tights have been popping up everywhere as well, and they range from slightly shiny to full-on gold sparkle. Find what you're comfortable with and add them into your tights rotation to spice up your normal work or nighttime attire.
Layer the Glitz In With Your Basics
Got a sequin or embellished tank that you usually reserve for after the sun goes down? Make the most of it and wear it during the day! Layer it over a basic black or gray long-sleeved knit top and pair with jeans, basic pants or a neutral skirt. Dress it up with heels or dress it down with minimal accessories and a blazer for a day at the office. The neutral layers will balance out any embellishment, and the glitzy detail will provide the same accent that your jewelry normally would.
You can also break out your sequin sweaters during the day as well. Pair any sequin sweater with contrasting neutral pieces for a fresh take on timeless chic. Lighter sequins tend to work better for daytime, but a black sequined cardigan, styled with a white cotton tank and dark denim, is a great casual option that can quickly go from day to night. Got a metallic sweater that doesn't resemble a basic cardigan and you don't know what to do with it? You can always layer it with a blazer or other indoor-appropriate jacket to tone down the sparkle, but these pieces are also great seasonal transition items. Pair a gold sweater with a pastel skirt (see below) for a winter-sparkle-meets-spring-awakening look, which will help you transition in style by using the best of both seasons.
Sequin skirts are usually reserved for nighttime activities, but if you own a sparkly skit in a lighter color, you can also work them during the day. Pair knee-high, flat boots with a cream sequined skirt and a cream cashmere sweater for a winter white ensemble that is daytime-appropriate and wonderland-esque.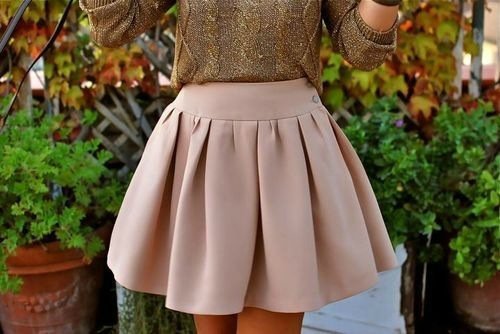 Remember, fashioniSTAs, probably the easiest way to subtly sparkle in style is to brush a glitter topcoat across your nails, it's quick and will complement any ensemble!
~Ashley, FashioniSTA
Comments are closed.