Prints Charming
Incorporating two or more prints in one outfit is an important trend for Spring 2010. However, many will shy away from the look because they are not sure how to pull it off without looking like they got dressed in the dark.
Want to try it out, but need a little guidance? Follow the tips below and soon you will be decked out in designs.
1. Pair prints of similar sensibilities.
Combine a romantic, miniature floral print with a petite polka-dot or a wide stripe with a bold, geometric print. Finish off the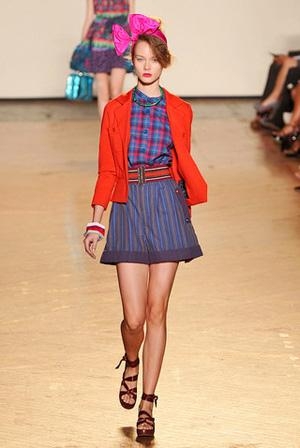 look with complementary accessories. I promise that you will feel pulled together instead of pulled apart.
2. Stay within the same color family.
If all of your prints are different hues of the same color, the outfit remains cohesive. This is the easiest to pull off if the color of choice is a neutral, but I have seen some very successful – and very colorful – outfits as well.
3. Try the same print twice, but in different colors.
Found a print you love? Buy two different garments – perhaps a tank and a skirt - in two different colors – and wear them together. The colors should be of equivalent tone – hot pink and cobalt blue combine well as do moss green and lavender. Or, you should select one garment in a color and one garment in a neutral.
4. Select subdued hues for evening.
Want to take this look from day to night? Combine it with another important Spring 2010 trend – muted hues. Patterns in nudes, pale pinks, soft neutrals and icy blues look subtly sophisticated and serve as better back-drops for night-time bling than their brighter, louder day-time counterparts.
Hopefully this blog has you feeling a little more confident about taking the prints plunge…
Happy shopping!
~Marisa, Director of Styling, Second Time Around
Comments are closed.