Posts tagged
Carmen Electra
Ah, the Screen Actors Guild Awards. The awards show with a little more street cred than the commercial Oscars, but just enough class to make the red carpet an interesting mix. You can always tell when a celeb is saving her (or his) big fashion coming out moment for the Oscars, which makes this event a truly stylish warm-up. Here we count down the top five best style stars of the night.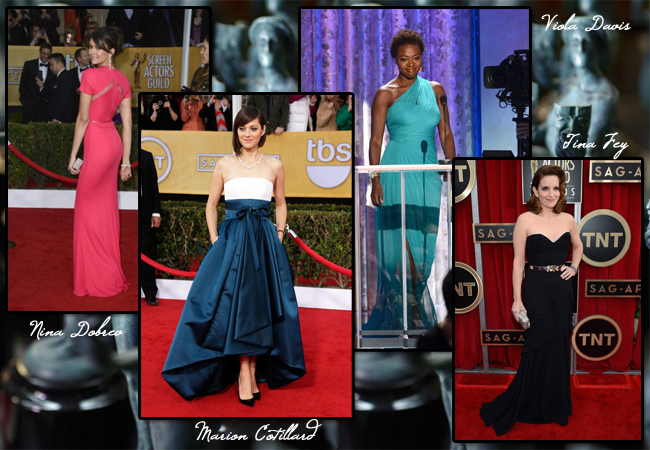 5. Tina Fey in Oscar de la Renta.
This was the absolute best choice Tina could have picked having just come off her moment at the Golden Globes. The elegant shape and flattering color was pushed into the "best dressed" category with that belt that only Oscar the Great could have designed.
4. Nina Dobrev in Elie Saab.
This is someone who gets it right every time she steps onto any type of carpet (I'm pretty sure she looks even good when she goes to Ikea). Hot pink is a pretty daring color, especially with the abundance of red, but the sleek silhouette with the subtle cut-outs made this look a home run.
3. Viola Davis in Monique Lhuillier.
One of the more under-the-radar stars at this year's SAGs, it would have truly been a shame to have not noticed her on the carpet. She looked pretty amazing last year during the wave of The Help, but she managed to parlay her style stardom into this year's awards as well.
2. Marion Cotillard in Christian Dior.
This look was so fantastic I literally couldn't breathe. From the polished architectural details to her asymmetrical haircut, there is really only one word for this: obsessed.
1. Navy Blue on Everyone.
No seriously, everyone wore navy blue. Which means Carmen Electra and Jessica Lange were both wearing the same color. The other notable list of celebs donning this color included Jennifer Lawrence in Dior, Amanda Seyfried in Zac Posen, and Nicole Kidman in Vivienne Westwood. Clearly navy came in as the winner of the evening, with the biggest comeback since school uniforms were invented.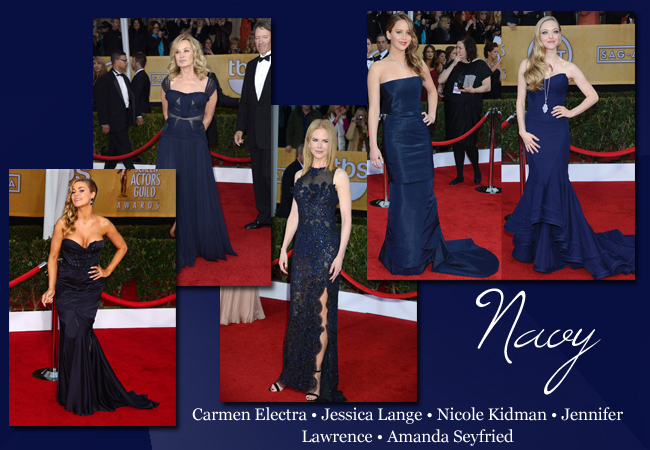 See you all in two weeks to dissect the Grammys!
Photo credit to: highlighthollywood.com, gossipcenter.com, popsugar.com, hollywoodreporter.com, digitalspy.com, cocoperez.com, movies.yahoo.com