Archive for
March 14, 2013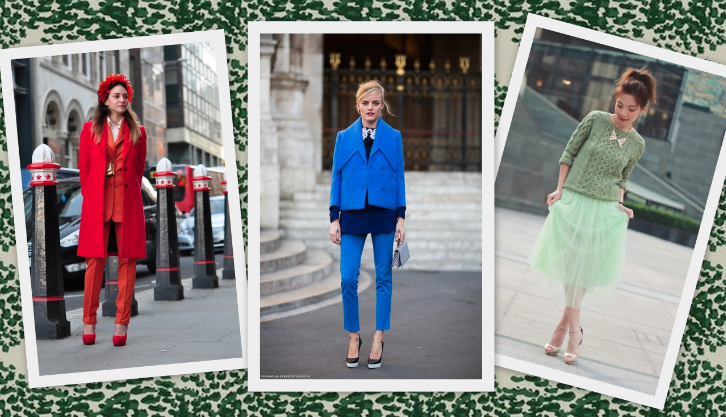 Last week, we focused on monochrome looks in their most classic form: black and white. Dressing in just one color can be daunting, so starting with all-black or all-white ensembles is a great way to experiment with the monochrome trend. But now that we're a little more comfortable with the look, why should we just limit ourselves to black and white? As we enter into spring, we want our outfits to reflect our sunnier moods—that means color, and lots of it!
Once you've mastered black and white, try out a monochrome look in one of spring's hottest colors; my favorites are emerald, blue-green, or orange, but don't be afraid to try something new! The most important part of putting together a colorful monochrome look is to wear the color in a variety of tones—make sure your look isn't matchy-matchy and stay away from choosing all pieces that are too similar in shade.
For a casual day-to-day look, choose one piece of clothing in a bright color and build the rest of your outfit around it. Try pairing a pale blue silk blouse with a pair of electric blue pants and accessorize with a navy blazer or a patterned blue scarf. Choosing a suit in a bright color (as seen above) is an even bolder way to try this trend, just make sure your accessories and other components aren't the identical shade as the suit. To transition the outfit to evening, add a brightly colored clutch or a vibrant pair of blue pumps to your ensemble. Color-coordinating your accessories to your outfit is an absolute must with this trend.
The key to wearing colorful monochrome is not being afraid to experiment; just because you're limited to one color doesn't mean you can't play around with different shades and patterns! Step into spring in a fun, colorful monochrome look-you'll be sure to stand out!
~Alyssa, fashioniSTA
(Image credits for collage: www.nyanzi.com, carolinesmode.com, www.asos.com)