Archive for
February, 2013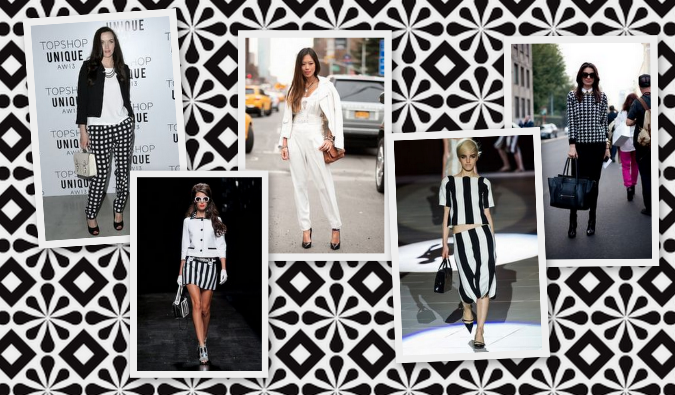 Fashion is all about self-expression, so when black and white monochrome looks became popular, I was a bit hesitant to participate. How can you fully express your fashion sense without the use of color? However, after seeing this trend on nearly every runway, I decided it was worth a shot—and now I'm obsessed!
One of the great things about this trend is that most of us have a bunch of separate black and white pieces in our closets. Because you're only dressing in black and white, it is actually a fairly easy trend to construct from any wardrobe, as long as you know how. For a subtler look for the office or during the day, play around with contrasting separates in a more unconventional way. Instead of donning the traditional black pants/white top look, try a pair of white pants and pair them with a black cashmere sweater or silk top. Since the look is simplistic in color, you can get away with incorporating more organic detail, whether it's adding a belt or layering two embellished pieces in the same hue.
If you're a little more daring, try wearing an ensemble of all white—the color is perfect for transitioning into spring and actually helps to create a slimming silhouette. And with winter white popping up everywhere, you no longer have to wait until Memorial Day to break it out.
If you want to rock monochrome in the evening, play around with black and white patterns; throw on a polka dotted blazer or a pair of striped pants and accessorize with a black and white color blocked bag. If you're super daring, experiment with—gasp!—mixing different black and white patterns in one outfit. Mixing black and white prints is an easy way to try out the contrasting prints trend, giving you two trends in one!
Monochromatic black and white is absolutely everywhere this season, from the runways to the magazines. The trend is fun, flattering and easy, so don't be afraid to give it a shot! Stay tuned as we show you how to work with other hues for a monochromatic look!
~Alyssa, fashioniSTA
(Image credits for collage: Style.com, Refinery29.com, Harpersbazaar.com)