April Showers Bring Opportunities for Style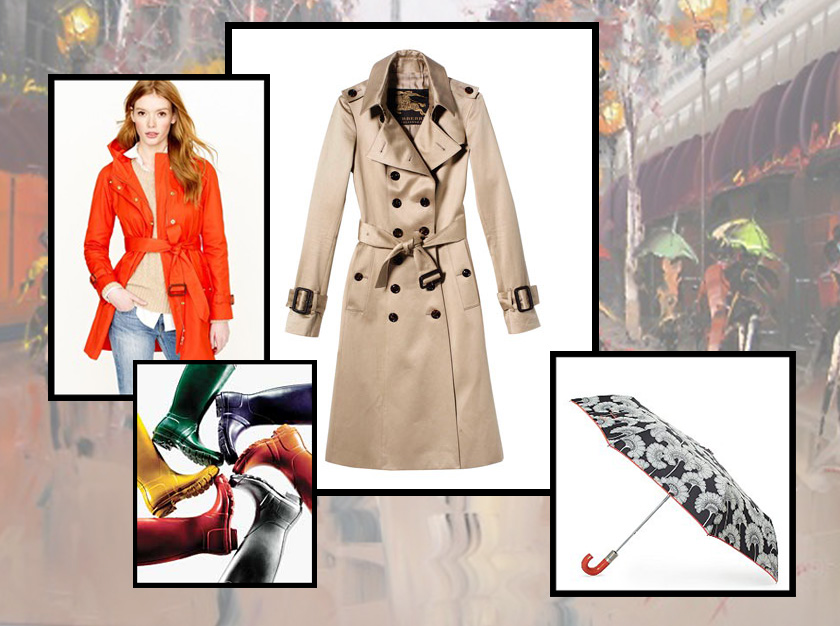 We all know that April showers bring the flowers, and the month at its end, let's hope there aren't too many showers in the forecast. But since there is bound to be some more rain before spring is over, we've got a couple tips to show you how to stay looking fabulous even when the weather isn't.
The Basics: Everyone needs rain boots and an umbrella. Both can be used as fun ways to add some personality to your look on a dreary day. You can keep it classic with black or muted tones, or go for a pop of color or print to brighten it up. Hunter Wellies, made stylish by Kate Moss when she paired them with itty-bitty shorts at the Glastonbury Festival, are a great staple and personal favorite. And who wouldn't love a great umbrella like this Kate Spade printed-protector hanging over their heads keeping them dry? Whether you buy this one or a similar style, if you have a few colorful options on hand, you're sure to motivate yourself even on the dreariest days.
The Trench: There is nothing more stylish than a good trench coat, so leave behind your bulky ponchos. Going back to where it all started, Burberry created the first trench coat, and it is the most iconic and chic topper for a rainy day (plus all of their trenches are treated to be water-resistant!). Keep it cool and classy with this classic in khaki, or go bold in a bright color like this one from J.Crew. Going with a trench instead of a traditional rain jacket is a great way to flatter your shape, and since trenches look great even on sunny days, you'll get the most for your money.
Rainy days are dull and dreary, so have fun with these wet weather accessories, and don't let your outfit be!
~Lisa, social media fashioniSTA
Comments are closed.