Posts tagged
Hunter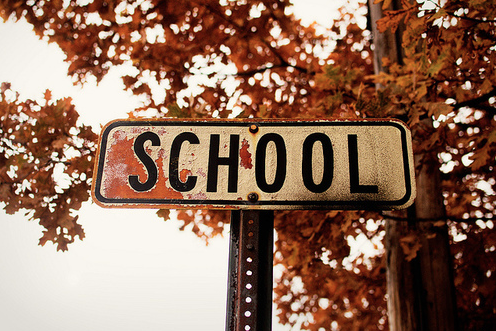 Every college campus has their own style and trends depending on location, weather, student culture. I may be a little biased, but the city schools are definitely the ones who set the trends and are the ones to keep an eye on. Need some inspiration? Here are some college trending topics that can make getting a degree that much more stylish.
It's time to put your high over-the-knee boots back in your closet and take out the heeled booties. The booties look superb with skinny jeans and just about any sweater (as shown below). Combined, these items make the perfect fall outfit, all you need is a great handbag to carry to class or the local coffee shop. Booties can be dressed down to be worn to class - just add leggings, an oversized sweater and a scarf - or dressed up to be worn out to a nice dinner. To take the transition from day to night, add a jersey or sweater dress with opaque tights.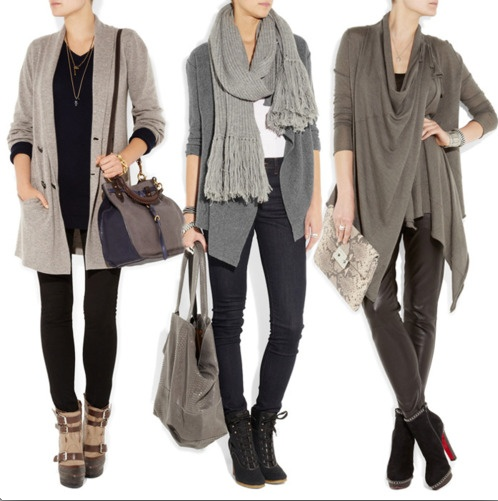 On a  more casual note, vests are the perfect topper to pair with a long sleeve shirt or sweater on your way out the door to class. They are comfortable warm and stylish…. what could be better. A popular look this fall is a flannel shirt paired with a vest, skinny jeans and combat boots. If that's not exactly your style, go for a sweater, vest and boots for the comfy, ready for class look.
There are also some staple pieces that can be found on any campus (shown below). These pieces include: Longchamp bags, North Face jackets, Hunter boots, and Tory Burch flats. These are very durable, comfortable, and reliable items that ever college girl must have in her closet in order to get through four years of lectures, labs, and discussions. Have these items in your style artillery and you'll never be late for class again!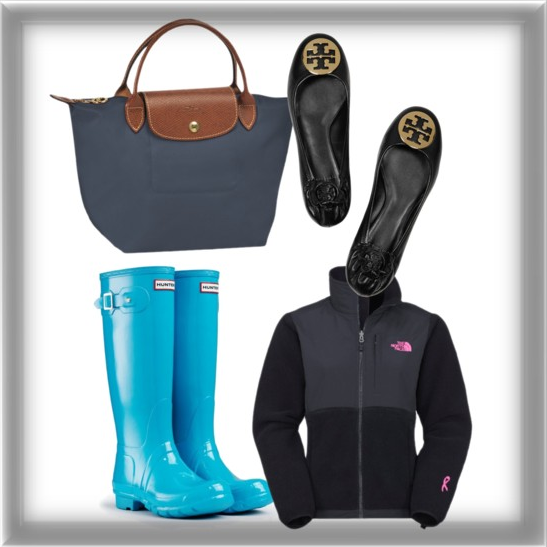 ~Jenna, fashioniSTA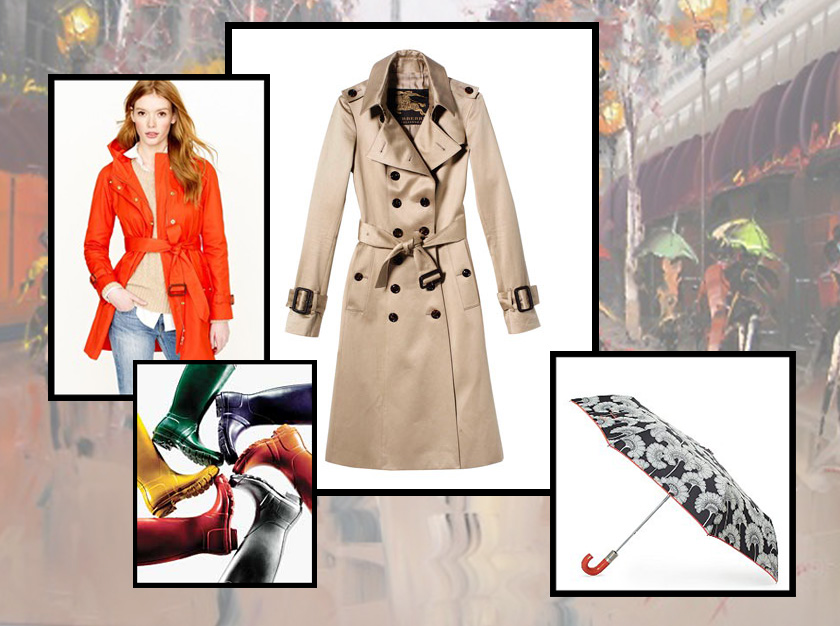 We all know that April showers bring the flowers, and the month at its end, let's hope there aren't too many showers in the forecast. But since there is bound to be some more rain before spring is over, we've got a couple tips to show you how to stay looking fabulous even when the weather isn't.
The Basics: Everyone needs rain boots and an umbrella. Both can be used as fun ways to add some personality to your look on a dreary day. You can keep it classic with black or muted tones, or go for a pop of color or print to brighten it up. Hunter Wellies, made stylish by Kate Moss when she paired them with itty-bitty shorts at the Glastonbury Festival, are a great staple and personal favorite. And who wouldn't love a great umbrella like this Kate Spade printed-protector hanging over their heads keeping them dry? Whether you buy this one or a similar style, if you have a few colorful options on hand, you're sure to motivate yourself even on the dreariest days.
The Trench: There is nothing more stylish than a good trench coat, so leave behind your bulky ponchos. Going back to where it all started, Burberry created the first trench coat, and it is the most iconic and chic topper for a rainy day (plus all of their trenches are treated to be water-resistant!). Keep it cool and classy with this classic in khaki, or go bold in a bright color like this one from J.Crew. Going with a trench instead of a traditional rain jacket is a great way to flatter your shape, and since trenches look great even on sunny days, you'll get the most for your money.
Rainy days are dull and dreary, so have fun with these wet weather accessories, and don't let your outfit be!
~Lisa, social media fashioniSTA
While we all make the shift from fall ensembles into winter outfits, this is a great time to try out some of the riskier trends that are popping up in stores. If you happen to be someone who genuinely enjoys dressing up for Halloween, then take that enthusiasm and apply it to your everyday wardrobe with a couple key fall risks. Drab to fab is just one key piece away.
Multi-Colored/Patterned Tights
This is one trend that can be universally applied, no matter what your style might be. I'm not suggesting wearing anything striped or patterned, but a pair of raspberry-colored tights against an all-black ensemble makes a great and easy statement. If you happen to be slightly more adventurous than that, go with a pair of argyle tights for a preppy statement, or you can try out the textured tights that are making their way into every high-end store. I wouldn't suggest going with anything that you feel borders on a wicked witch motif, but trying a diamond-stamped pair would modernize a traditional shift dress.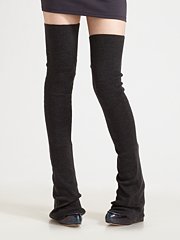 Leg Warmers
Are you a Dancing with the Stars fan? Of course you are. They wear leg warmers on the show like their legs would fall off without them. Since I don't know anyone who wouldn't want a body like a DWTS dancer, I feel like wearing leg warmers might make me look a little more like them, and then I'm one step closer. Go with a pair from Alexander Wang or Rag and Bone, and whether you choose to scrunch them down or wear them straight, the possibilities are endless. Wear them scrunched and pair them with leggings and a jersey top for a fitness fantastic ensemble, or pull them straight and pair with a knit dress for a modern - and warm - look.
Not into the whole 80s vibe? Try a pair of heavy knit knee socks under Hunter rain boots – or brown leather knee boots or those rare sunny days – and pair them with leggings or a knit dress for a cozy, autumn look.
Pea Coat Vest
Tommy Hilfiger has put out what I think is the latest and greatest in fall outerwear. Basically taking an army-green pea coat and cutting off the sleeves, he managed to create a great vest that looks like it's straight off of the Onassis yacht (only truly fabulous people yacht in the fall). This soon-to-be staple is the perfect combination of preppy and innovation, and I'm personally dying to own one. Pair it with a turtleneck, jeans and riding boots for an equestrian-friendly ensemble. Or try it with a long-sleeved dress and knee-high, heeled suede boots for a more urban-chic look.
Military
I know that there are a lot of simple and subtle ways to introduce the military look into your wardrobe, so this should not be shocking. But instead of sticking with just an army-green piece or a jacket with "military-inspired" gold buttons, go for a real military risk. Check out a runway-worthy military jacket from Juicy Couture or Of Two Minds, or go all out and find one with military detailing on the shoulders.
If all of this is a little extreme for your risk factor, try one statement piece in a subtle camo print, like LaRok's sequin camo skirt or Manolo Blahnik's camo flats, sure to make you army-chic in no time.
Fur
There's nothing that Rachel Zoe loves more than a fur vest, so if you happen to live to watch her die over everything vintage she finds, this might be a good place to start. Try a vest from her own QVC line for something moderately-priced. This season there are also some great fur boot options that are sure to be your new best friends once the temperature dips below freezing.
While it seems like a fashion risk, the right faux-fur (or real fur) jacket in a winter white color can be a classic piece for fancy events. The off-white option from Juicy Couture this season is a great example, and is sure to keep you warm when wearing a cocktail dress as well as make sure you're cold-weather chic.
Pattern Knits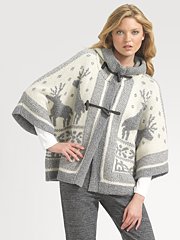 Whenever I think of wintertime, I always think of those Jan Brett picture books from when I was younger, and pretty much all of them involve a little girl wearing a Swedish-inspired knit sweater, usually with large snowflakes knitted into it. Although I'm sure no one else would think that's a basis for a current trend, these sweaters are popping up all over the place (and not just in the children's section). Go for a Fair Isle sweater for a low-key risk, or pump up the risk factor with an all-over print like the ones this season from Rag and Bone and Marc Jacobs. Should you want to exude Christmas spirit early, go with See by Chloé's reindeer pattern sweater (right), it's like it was ripped straight from the pages of my favorite childhood books. Or if you happen to be feeling a little saucy lately, try Ralph Lauren Blue Label's off-the-shoulder snowflake sweater.
For the over-achiever, Juicy Couture's Faux Fur-Trimmed Cardigan covers two fashion risks at once, but if you're only feeling up for one, the fur collar is detachable. With all of these options, you'll be all set for anything, from the apple orchard to the ski slope.
Remember fashioniSTAs, you'll never know your true style potential until you take a risk!
~Ashley, fashioniSTA, Second Time Around