Our Favorite Trends at New York Fashion Week
Just when we started to embrace fall's temperatures and wardrobes (Layers! Cashmere!) – New York Fashion Week had to come along and tantalize us with some of the sleekest and chicest spring/summer 2013 offerings we can think of. The next six months can't fly by quick enough so we can get our hands our favorite NYFW pieces.
Who says sequins are for evening only? Us fashioniSTAs love everything that shimmers, like this Rachel Zoe. With its silver sheen and a hint of gold, we can't wait to incorporate this top into our everyday wardrobes. Adding a bit of bling at the supermarket, on the subway, or at a dinner date never felt so easy. (We love it paired with Zoe's crisp seafoam green shorts and oversized cat-eye sunnies too!)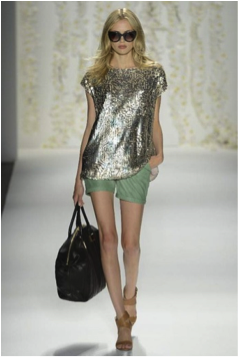 Amping up our arsenal of summertime day dresses is one of the best things about spring (along with fresh flowers and paper-thin cardigans). Victoria Beckham's new line, Victoria Victoria Beckham, makes our selection that much better for 2013. With a blended watercolor-inspired print, and a bold pop of cobalt blue, this dress will be one suitable the first al fresco brunch of the year. Perfect for brunch with your girlfriends, throw on some sandals and an aforementioned paper-thin cardigan and you're good to go.
A common fashioniSTA dilemma? How to dress for warm weather to the office. Thanks to Z Spoke by Zac Posen (left) and Juicy Couture (right), short suits are on-trend in a big way. With their bold prints and vibrant colors, we're able to bring tailored professionalism to the 9-5 work day. Pair them with flats and neutral accessories to make them instantly office-appropriate, whether your daytime style is quirky or sleek.
Want to see what else we loved from NYFW – and what we're currently lusting after from London Fashion Week? We have you covered over at our Pinterest boards.
~Meredith, fashioniSTA
Comments are closed.