Posts tagged
Herve Leger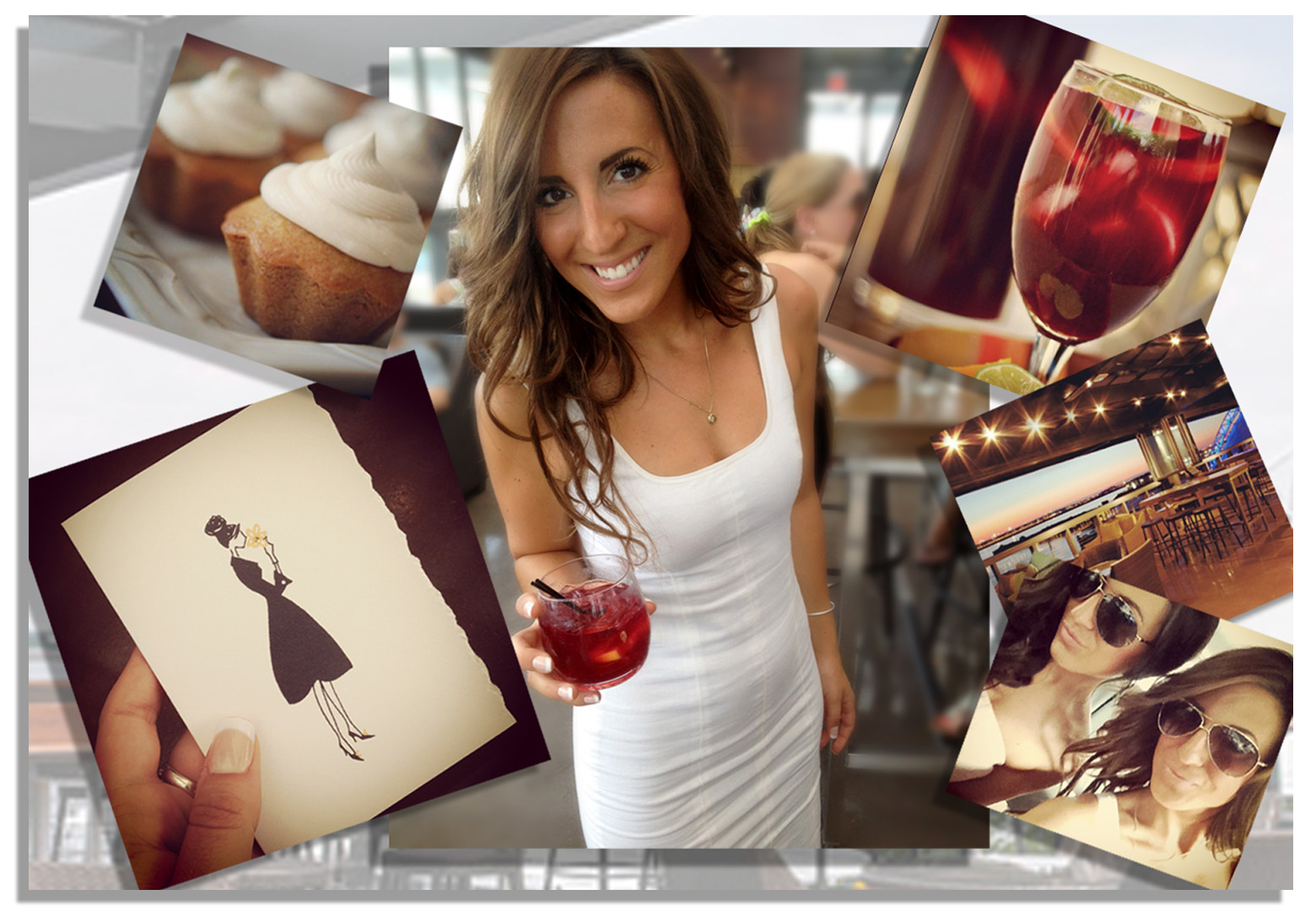 Earlier this week, this fashioniSTA celebrated a very stylish birthday (not to mention a double birthday for my fashionable twin sister as well). Friends and family gathered on a waterfront restaurant roof deck overlooking Boston's harbor where the sun was shining and the sangria was absolutely delicious. To dress for the occasion I wore a white form-fitting Nicole Miller number, while my sister opted for a flowy feminine look in soft pink silk chiffon. FashioniSTA friends arrived in sundresses and full skirts covered in florals, lace, and summer stripes.  It was quite the party.
On your birthday it's your time to shine, and at your party you are already the center of attention so make sure you dress the part.  Don't be afraid to wear a bold color or to steal the show in sequins. Play up your personality and show off your own unique personal style.  Here are some fabulous looks for a fashioniSTA birthday party: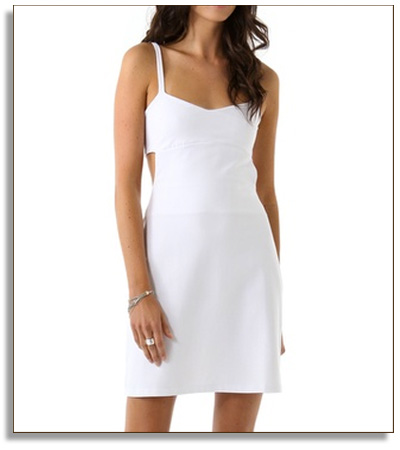 LWD: The little white dress is easily summer's version of the LBD.  It's classic, elegant, and chic, and is the perfect dress for any special occasion- especially on your special day. The little white dress allows you to accessorize in a way that really shows off your personality, like adding some personalized Alex and Ani bangles or a statement necklace. There are many options of silhouettes, fabrics and details, so chose something that flatters your figure and that you feel comfortable in.
FashioniSTA picks: Susana Monaco, Alice + Olivia, Nicholas.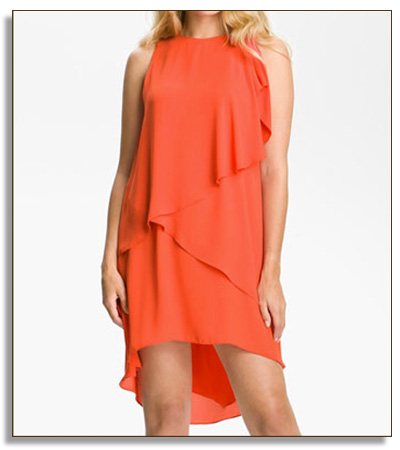 Be Bold: Another option is to wear a bright color which really puts you as the center of attention on your birthday. Neon has been a huge trend this spring and summer, so if you're feeling daring, don a dress if the super bright shades. If trends aren't your thing, try a dress in a summery shade of coral or yellow. Wearing a bold color exudes confidence and shows a fun, playful personality.
FashioniSTA picks: BCBGMAXAZRIA, Herve Leger.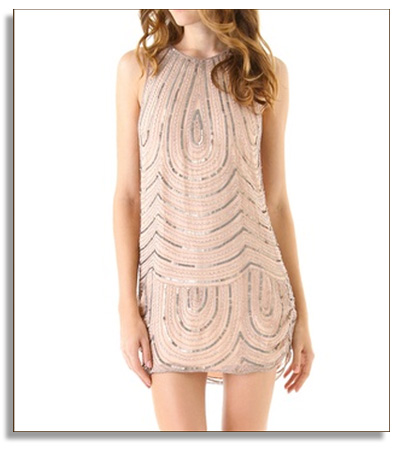 Sparkle and Shine: At STA we love anything that sparkles. If you really want to shine on your birthday, wear sequins. A little sparkle will never go out of style.
FashioniSTA picks: Parker, MICHAEL Michael Kors.
~Lisa, fashioniSTA
Awards season continues! We're taking a quick break from shopping our hearts out at the big STA sale to bring you the dish on the SAG Awards red carpet. Here we break down the top trends of the night, from the grand slams to the strikeouts (can you tell we just bought baseball tickets?). This awards show had a surprising number of impeccably dressed celebs (even Helena Bonham Carter didn't look terrible), but since this is one of the more liberal events, there are always the few who take it to the extreme. Check out who made the cut and whose dress needs to be cut, straight from The FashioniSTAs. 
White Hot 
No one loves wearing summer-appropriate clothing during the winter months quite like the citizens of Los Angeles. It's almost as if they're rubbing it in our faces that we're cold and they're not. That aside, some of these white gowns didn't quite make the cut. Eva Longoria (far left) showed up in a Georges Hobeika dress with a draped, plunging neckline that almost looked like she was the victim of a Halloween TP-ing incident. Amy Adams (center right) also donned this summer shade, going with a Herve L. Leroux gown that would have been gorgeous if it had properly fit her. The worst of the bunch? Winona Ryder (center left) in an actual wedding gown by Alberta Ferretti. Self-explanatory. 
However, the shining (white) light of this trend was Natalie Portman (far right) in a gorgeous crystal-trimmed, strapless Azzaro gown. Our only complaint is that the fit across her baby bump was for someone not pregnant.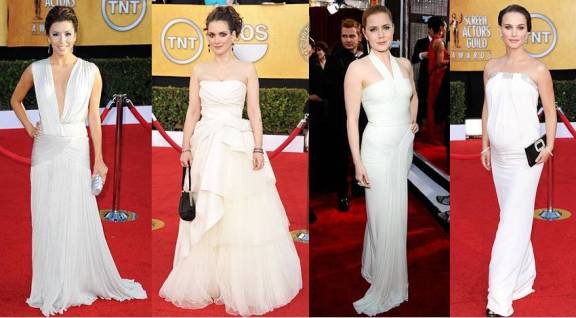 Orange You Glad 
I feel like everywhere I turned someone was showing up in a nude-colored dress, from basically the entire female ensemble of Glee to Kate Mara to Hilary Swank. This seemed to be the season of nude shades, but at this awards show, a few were bold enough to take it a step further and go orange. Sarah Hyland (below, left)– one of our favorite new fashionistas – looked sleek, if not a little too old, in her Max Mara knotted-waist dress. One thing that maybe didn't work with this ensemble? The oddly mismatched arm jewelry, which kept her looking a little less put together than she did at the Golden Globes. Jayma Mays (below, right) also went with this hue, looking dewy and fresh in a Jenny Packham number. She made it look effortlessly perfect with just the right amount of metallic embellishment, and her hair color only made the outfit better.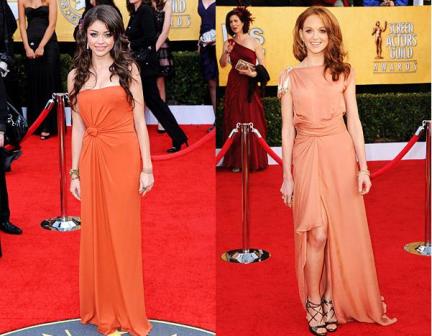 Not-So-Basic Black 
In order to wear black on the red carpet and not get completely ignored, your dress has to have an additional wow-factor. Judging from the Malandrino plunging neckline pantsuit, Julie Bowen (far left)decided to go in a different direction with black and lose the dress part altogether. I'm not sure if she was channeling J.Lo, but she hit the red carpet in style, going sleek and modern with the most perfect makeup. Amber Riley (far right) in Anne Barge also rocked the awards show with her full-on diva look. If this is any indication of her star power, hold on to your seat. She'd give anyone a run for their money in this number – which was originally a wedding dress, although it's so awards-show-fabulous, you'd never be able to tell. Christina Hendricks (center) also went with black in a long-sleeved, sparkly L'Wren Scott number, which at first glance looks as if it had the potential to be a great departure from the black norm. But taking a closer look, the color is too severe on her pale skin, and the shoes definitely didn't help.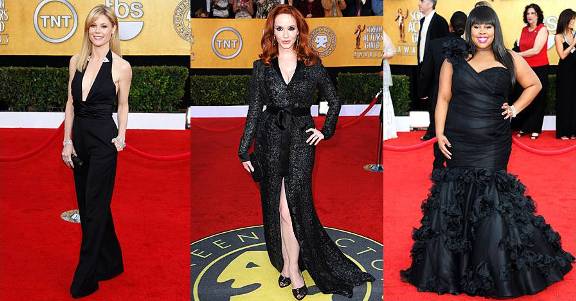 Print Crazy 
If you want to go experimental at any of the awards shows, the SAG Awards is definitely the way to go. The girls who took the print plunge definitely deserve to be in an elite fashion category, from Mila Kunis (below, left) in a perfectly-styled Alexander McQueen that solidified her as this season's top fashionista, to Hailee Steinfeld worthy of a place in the young Hollywood hall of fame in a striped Prada. The list goes on with January Jones in an antique gold, lace-print Carolina Herrera, Julia Stiles (below, right) in a crisp, ombré Monique Lhuillier, and Claire Danes (below, center) in a belted, floral Louis Vuitton.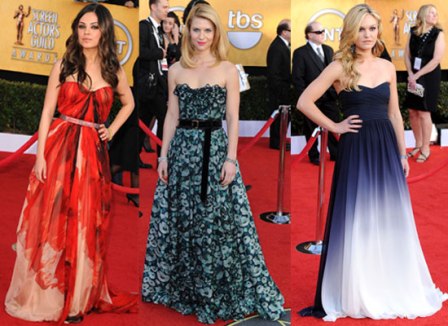 The FashioniSTA Verdict 
Best Dressed: January Jones in Carolina Herrera (right). She was the complete package and had some serious "wow" factor. I loved the intricate gold pattern on black background and the fit – slightly loose, conservative t-shirt shape on top, fitted through the hips and thighs and then ending in a mermaid flare – was dramatic. She accented the outfit with gold Roger Vivier pumps, simple black stud earrings and an old-Hollywood style side-swept up-do. Perfection! 
Worst Dressed: Christina Hendricks in L'Wren Scott. This dress had some potential. However, there were just too many execution issues and unfortunately the look fell short. I don't think that the fit was great and – as a result – her curves made her look heavy instead of voluptuous. Also, the combination of the full-length sleeves, the heavy-handed eyeliner and the fact that the dress was black was way too much for her fair skin. She looked almost gothic and, to be honest, a bit scary. 
Rookie of the Year: Julie Bowen in Catherine Malandrino. I was very impressed with the Modern Family actor's sleek, modern look. She sported a well-tailored, black jumper with a plunging halter neckline. Her accessories included a simple clutch and Neil Lane diamonds and her hair was worn down - sleek and straight – to complement her attire. This was a great choice for the SAG Awards which is traditionally a more casual event and it gave her a chance to showcase her beauty and style – a distinct departure from the role of suburban mom that she plays on her award-winning show. 
Best Dressed: Lea Michele in Oscar de la Renta. I LOVE this whole throwback to the '70s, and this sleek silhouette is so much more flattering than the 800 fussy ruffles she wore to the Golden Globes. The whole look was effortlessly gorgeous with just the right amount of sparkle for a cast nominee.
Worst Dressed: Lauren Vélez from Dexter. She's not one of the most photographed actresses, and this time that was probably a blessing for her. Not only do I not understand this whole bedazzled flower halter top (and I always understand bedazzling), but I think I had the same skirt in the 7th grade from the Gap.
On-the-Fence: Julie Bowen in Malandrino. The pantsuit was definitely a fashion risk, whether it paid off depends on if you saw it on television or in print. But what I do know is that her sleek hair and minimalist jewelry/makeup definitely pushes her more on the fashion "do" side of things. 
Rookie of the Year: Ariel Winter (right) in Luisa Beccaria. This white, tea-length dress was perfect on her, the whole dress just worked between the texture, the slight ruffle at the collar and the black belt. She looked age-appropriate and fashion-forward, the great makings of a future fashionista. 
Biggest Comeback: Tina Fey in Oscar de la Renta. FINALLY, she looked great! We knew she had fashion potential, and now we can actually see it. The color, the texture, the hair, jewelry, makeup…it all works! *Standing ovation* 
‪‪Best Dressed: Mila Kunis in Alexander McQueen Resort Collection. She looked absolutely radiant in a strapless cut. The bare shoulder flattered her wavy hair, and the splashes of red and train dazzled the already red carpet. I loved her smoky eyes, it definitely was an "all eyes on her" moment. The small thin belt accentuated her already small waist. She was a show stopper in my eyes; and I'm all about that. Kudos Kunis, kudos.‪ ‪ 
Worst Dressed: Jennifer Lawrence (right) in Oscar de la Renta. Can someone please explain to me what color pink this is? If it was a nail polish it would be named NIPP (NEVER IN PUBLIC PINK). Besides the fact that I'm not a fan of neon colors especially pink, yikes, there's too much going on. The straps look like a bad mummy wrap. I think it's hypocritical to have a slit all the way up your thigh then pair it up with a dainty little girl bow belt. 
On-The-Fence: Nicole Kidman in Nina Ricci. A lot of people like the black lace Nina Ricci gown but I'm not sure about it. Black wasn't a trend from what I saw nor do I think I've seen Nicole Kidman in a lot of black, and I see why. The black lace gown with jeweled incrusted neckline had a gothic appeal and I found it ugly, plain and simple. 
Best Dressed: Mila Kunis in Alexander McQueen.  Easy, breezy, and beautiful.
Worst Dressed:  Oh, where do I begin?? Let's start with Angie Harmon in Monique Lhuillier — I have yet to see a feathered dress that doesn't look like it belongs on the JC Penney's 1998 Prom Rack. The two ladies who most drastically caught my eye, however, were Nicole Kidman in Nina Ricci and Kate Mara in Hervé Leger by Max Azria.  Whaaaaaat was going on there?  Kidman's ensemble choice was just confusing (and where on earth did that necklace come from? What about that dress said "this neckline really needs some floral stuff"?)  and Mara looked downright uncomfortable.  Was that dress too small?  Or did you just realize too late that you look terrible? 
On-the-Fence: Hailee Steinfeld (right) in Prada — the fit was great and the colors were bold, but I'm not sure if I should congratulate you on being eye-catching or warn you against that kind of future statement. Plus, Julie Bowen in Maladrino — gutsy move on the pantsuit.  It looked a little too casual for my taste, but I appreciate the confidence. 
Rookie of the Year: Jayma Mays in Jenny Packham. Great cut and the shoes are fab, but it's a rookie mistake to wear such a washout shade. I've got my eye on you, Mays. Also, Mindy Kaling in Tadashi Shoji looked great – hey, Kim Kardashian, THIS is how you rock a Roman look! 
Biggest Comeback:  Tina Fey in Oscar de la Renta.  I haven't seen her look this radiant since her sexy January 2009 Vanity Fair cover. 
Check back as we sound off on the Grammys in a couple weeks!
Dear Target,
You have broken the mold on inexpensive clothing with your designer collaborations. From Rafe to Richard Chai, each GO International collection that you debut makes you even more of a fashion superpower. On behalf of the shopaholic nation that flocks to your store, I must let you know that with great power comes great responsibility. How you handle this responsibility is up to you, but we have a few suggestions on designer lines we think could really help you live up to your potential.
Diane von Furstenberg
There is not one girl on planet Earth who does not love a DVF wrap dress. Want to see what mass mayhem looks like? Pair DVF style with Target prices and prop the doors open. Everybody looks good wearing her designs, and I know the only thing keeping most people from buying everything she ever puts on a department store rack is the steep price tag that seems to find its way onto every one of her garments. Just imagine it with us, Target: Racks filled with colorful, printed wrap dresses; chiffon-draped, floral summertime blouses; tiered, ruffled skirts; all topped off with a couple pairs of her animal-printed sunglasses. And maybe some rubber flip-flops with her signature love knot design.
Herve Leger
This isn't so much of a suggestion as it is a desperate plea. I need a bandage dress, Target. And by "I," I mean every woman in greater North America. Preferably one that is in a vibrant – yet classy – color and maybe with a little sequins. You don't need to go over the top with the ombré and the full glitz effect, just a couple bandage skirts in both pencil and A-line, as well as a few variations on the classic bandage dress with different necklines.
Yes, this line would be slightly one-sided, what with the lack of pants and tops available, but I doubt you'd hear anyone complaining. His dresses seem to look good on a variety of body types, and I've never heard of anybody saying that looking great was a bad thing. So by not putting this line in your store, Target, you might as well tell all of us that you don't want us to look great. And that's just offensive.
Marc Jacobs
This one should be pretty obvious. Yes, I'm aware that he has a lower-priced line, but unless you happen to be a millionaire, his Marc by Marc Jacobs line is still a little on the pricey side. But his designs could easily translate to a GO International collaboration with his ability to create a broad spectrum of looks under one label. Military-inspired or library-chic, this versatile designer could create a versatile line that would appeal to your extensive consumer base. It's actually pretty poor business management if you don't implement this designer into your stores.
Target, please take his bold patterns and edginess from his Marc line and pair it perhaps with a few takes on his premium designer-line handbags. Nothing fancy, just a couple quilted handbags with chain straps and big hardware. But pair those handbags with exposed-zipper skirts and cardigan-style dresses, and you've got all the tools of a major style superstar.     
Christian Louboutin
Hey, a girl can dream.
So you see, Target, we're not asking for too much. We haven't requested elaborate, real-fur vests or bedazzled booties encrusted with Swarovski crystals. This is just one, simple fashion-obsessed plea to the powers that be. We've given you all the tools, all you have to do is say yes. So easy.
Love always,
Shopaholic Everywhere
PS - Love the new Tucker line.
~Ashley Bell, FashioniSTA, Second Time Around