Posts tagged
Samba
Fashionistas, we all know neutral doesn't mean boring.  This season especially, Pantone has introduced some enchanting new shades to change up your usual neutral looks.
Pantone's new take on neutrals can turn your look from basic to fashion forward without being flashy.  The calm lush shade of deep lichen is perfect for an earthy yet edgy feel.  The smoky turbulence shade is cool yet sophisticated.  And the ever smooth and sensational shade of brown is carafe, for a classic and upscale look.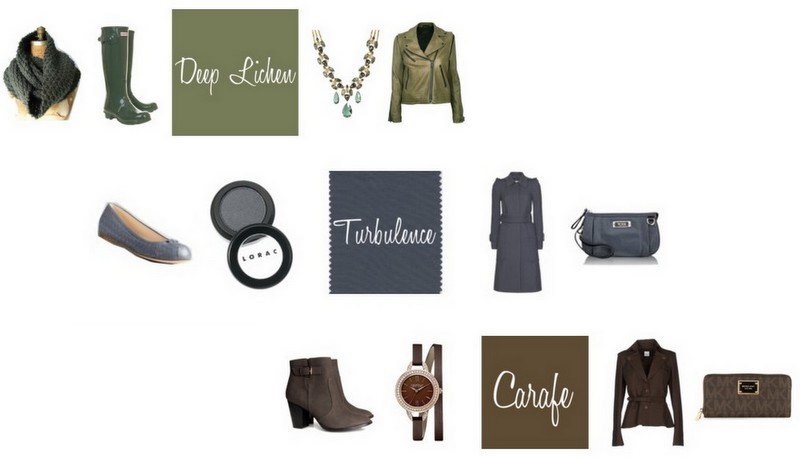 We can't get enough of these fresh non-traditional neutrals.  Pantone also features subtle yet stunning jewel tones and vivid, upbeat brights in this season's palate, which beautifully enhance the neutral hues.

The new neutral shades are a great way to change up your usual black, navy, brown, or khaki go-to's.  Mix and match them together or pair them with Pantone's Fall 2013 jewel tones and brights.  You can do just a splash of color or go all out, whatever your mood may inspire.

We love these fashionista's color combos!  The turbulence coat with an acai pant is perfect for a cool, urban look.  Pairing carafe tights with a samba skirt perfectly embraces the warm, fall feel.  Get the rustic, yet chic, style with a deep lichen skirt and a pop of color, like a samba cross-body bag.  And finally, we are loving the layering of a lichen green jacket over a vibrant color like koi!
Get creative!  These hues can mix and match to best embrace your unique and stunning style.
~Anne, fashioniSTA
Photo Credits: polyvore.com, pantone.com, pintrest.com
Dancing with the Stars premieres tonight, so to get us in the style spirit, we've dug up some of our favorite outfits from seasons past. Whether it's an elegant waltz or an energetic jitterbug - or just a look at the judge's black-tie ensembles - the costume department knows how to bring it. The sequins, spandex and use of feathers make this show one of the most stylish programs to hit the air, check out the evidence below!
Of course we're always looking for ways to put a little more DWTS into our days. To get the signature looks for your everyday life, we've come up with a few ingredients. Just add these to your daily outfits and you'll be waltzing to work and foxtrotting into Fridays by no time:
Sparkle. This is the most important ingredient, and must be used generously. Or just sprinkle a little on your eyelids to brighten up your Mondays (which, coincidentally, is a DWTS night). Plus you'll be ahead of the trend, gold lamé is really hitting up the runway for fall.
A sassy attitude. The dancers don't get to the top without a will to win, and you won't claim their coveted style without a little sass in your step.
Spray tan. Whether you're looking to go full Cha-cha-cha or you just want a little extra Jive in your life, a sunny glow is a must-have.
Fancy up-do. You can't expect to perform a 30-worthy dance with your hair falling in your face. Slick your hair into an Argentine Tango ponytail, tease it back into a Samba-swept mane, or pin it back into a Waltz-worthy chignon.
Waterproof mascara. No episode ever made it through without a few tears. While you're at it, add a few faux lashes to your look for a truly authentic homage.
Now that you've got the tools, you're all set to celebrate the premiere in style!
~Ashley, FashioniSTA