Posts tagged
family
It was well worth it ladies. Black Friday was everything it promised to be, and more.  50% off everything? Are you serious?  Needless to say we had some trouble controlling ourselves. But that's what Black Friday is for.
Once the floodgates opened at 7am I went straight for the shoe department. I certainly scored there, Marc by Marc Jacobs heels, BCBG wedges, and Delman flats! (some shoes you just have to wear out of the store…)  Both the Marc Jacobs and the Delmans were a steal for just $50 (85% off their original retail prices!), I could hear the choir singing with rejoice.

Despite all of our planning, nothing could truly prepare us for the big day.  Now cradling my shoes, I got a bit frantic during the next phase of my attack, running from rack to rack of clothing trying to find my size.  There was no time to waste, I had to fish through before someone else grabbed the Chanel dress of my dreams.  And like taking candy from a baby, my dress went home with another girl.  Hard to complain, I still left with two beautiful tops, an STA statement necklace and cocktail ring!  All together it came to under $70.  I'll take it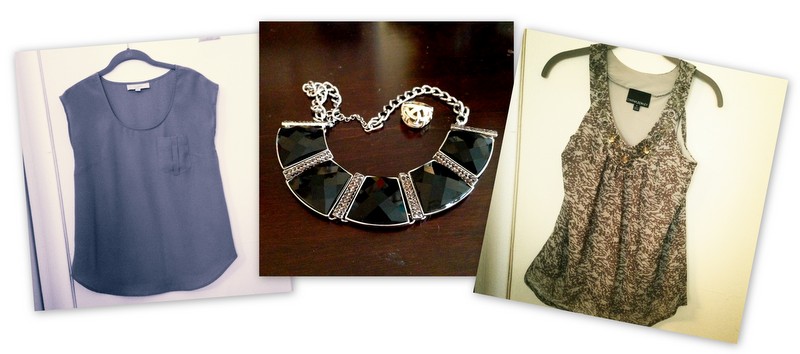 Unsurprisingly, the girls managed to clean up as well, with a beautiful Moncler coat for $150 and Charlotte Olympia flats for $75 (again, both were almost 90% off their retail price). It's a Black Friday miracle.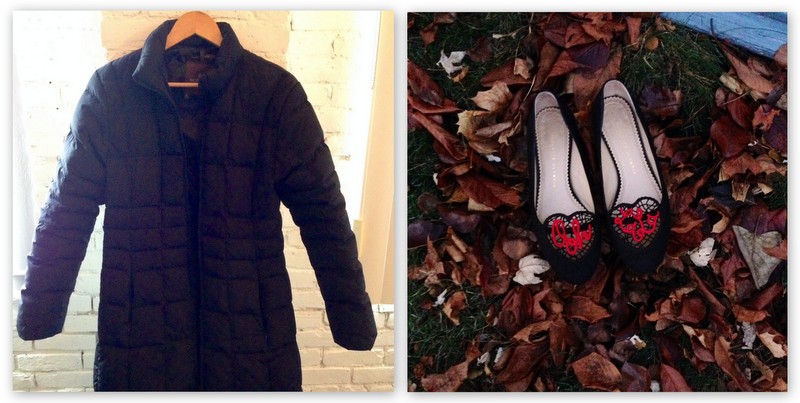 While we definitely managed to rack up a grand total, it was more than worth it.  It's the one day of the year where you can go a little crazy.  Besides, on Black Friday, what happens in STA stays in STA.
Thanksgiving is a holiday to celebrate time with your friends and family but also a weekend where it is totally acceptable to eat all the turkey, stuffing, mashed potatoes, jam and pumpkin pie that you can possibly squeeze into your mouth. With this said, it is only natural to want to wear something not so tight fitting, yet still look like a Thanksgiving Fashionista.
The oversized look is so in this season and its the perfect outfit to make  yourself look trendy in a no-so-tight fashion. There are a few different way to make this look one to remember:
1. The first look you can do it a jeweled sweater with corduroy pants. This look is sure to catch an eye with the highly fashionable spiked or studded sweater and be totally comfortable with colored corduroy pants. Brands such as J Brand and Blank NYC carry cords with some stretch in the waist, perfect for those turkey day binge sessions.
2. Another great outfit would be leggings (whats more comfortable?), a flowy shirt, blazer, and chunky jewelry or an infinity scarf. A big necklace or earrings is a great replacement for layered bracelets considering that you don't want the bracelets getting in the way of you reaching for another piece of turkey. If you can't part with your arm party, go with a big cocktail ring and you'll forget all about the bracelets tucked away in your room.
3. If you're aiming for something a little more dressed-up, go with a skirt/dress ensemble that has the two essentials: stretch and sparkle. Throw on a jersey or sweatshirt material skirt that has some embellishment on it, and pair it with an oversized cardigan or batwing top in a neutral color. Throw on big earrings or statement necklace and you'll be good to go!
If you're just looking to put things in your closet together to make a cute Thanksgiving holiday outfit, you can't go wrong with leggings/jeans and any oversized basics. Then all you have to do is accessorize it with any of the options above such as a scarf, chunky necklace, or a studded jacket or blazer to make it dinner party appropriate.
~Jenna, fashioniSTA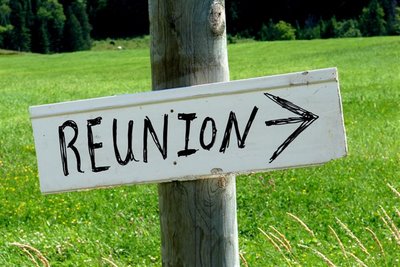 No matter how large your family gatherings may be, there's always at least one person present that you need to "dress your best" for. Picky grandparents, that cousin with whom you're always competing, mother-in-law… time with the extended family should never be taken for granted, but who wants the added stress of dressing for the occasion? No one, so here's how you can make it a breeze! Learn how to incorporate your taste into outfits that are coordinated and pulled together. Keep your outfit consistent in textures and patterns so as not to clash; it helps you come across as pulled together, not to mention make you appear as if you made an effort to dress well. Some simple fashion rules to keep in mind…
- Dress comfortably, both physically and emotionally. Don't take a risk with a color / print / style if you don't feel 100% confident in it; if you feel self-conscious all day about your choice, you won't be able to relax, and people pick up on that. The same goes for wearing something too structured; if you're physically uncomfortable in something after only an hour of wearing it, you won't be able to stop thinking about your discomfort all day. And who wants that?
- Dress your size. Don't squeeze into something because you reeeeeeally wanted to wear it, and don't wear anything too oversized (unless it's intentionally sized that way) — you'll come across as if you're hiding (or hiding a baby bump).
- When in doubt, dress up instead of down. Many fashion icons have stated that it's better to be overdressed for an occasion than under. You can be noticed for looking too fabulous or for looking too boring. You choose.
- Never sacrifice your own personal style for the sake of someone's expectations. Just temporarily tailor it to put your best face forward for the situation!
Check out some outfit choices from our Harvard Square location: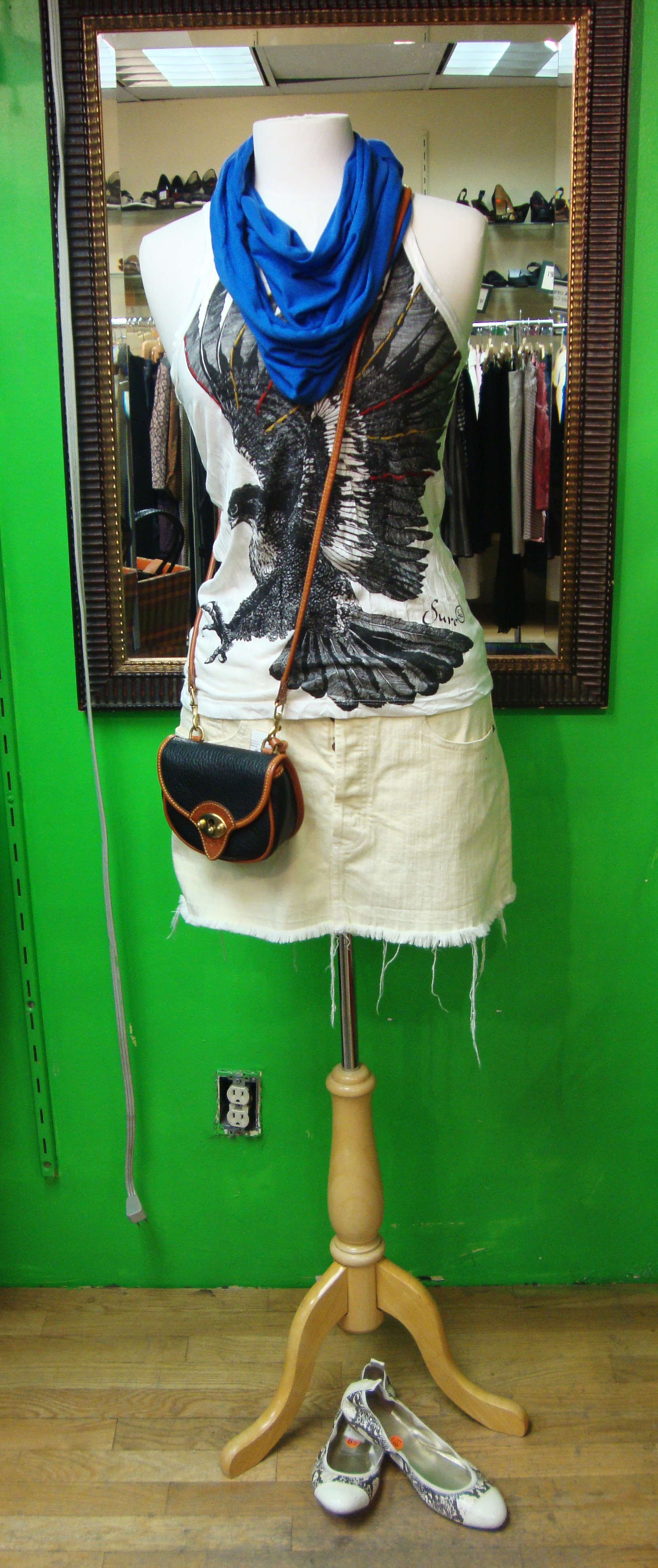 Tank: Dharma Imports (size S) $28 — NWT! / Jersey Knit Scarf: American Apparel $9 / Skirt: Chip & Pepper (size 6) $35 / Bag: Dooney & Bourke $49 / Flats: Enzo Angiolini (size 8.5) $29
Dress: Dharma Imports (size M) $34 — NWT! / Wooden Bead & Rope Necklace: $8 / Bag: Isabella Fiore $59 / Sandals: Prada (size 8.5) $119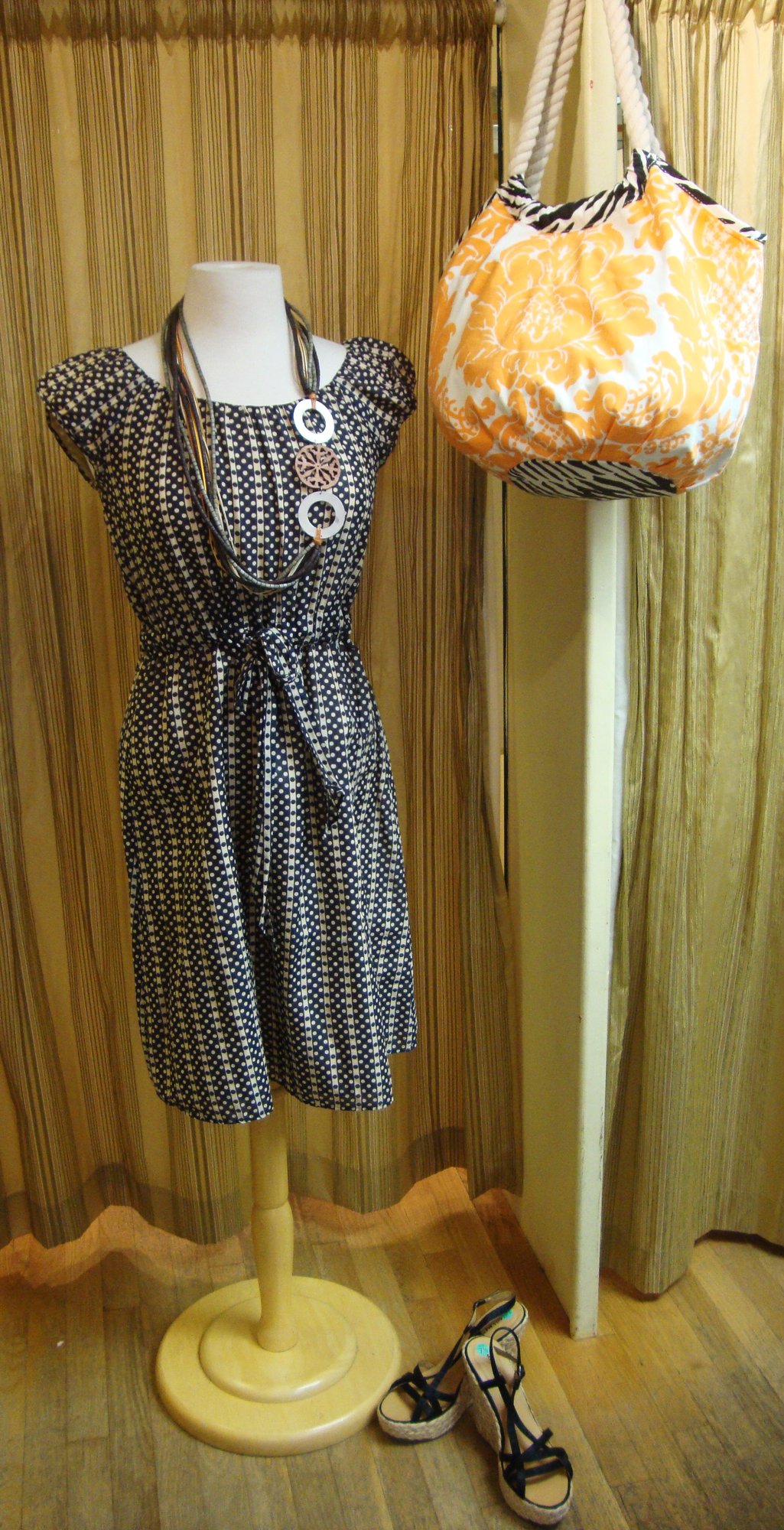 Dress: Theory (size S) $59 / Wood & Leather Necklace: $16 / Bag: Donna Dixon: $19 / Sandals: Miz Mooz (size 7.5) $25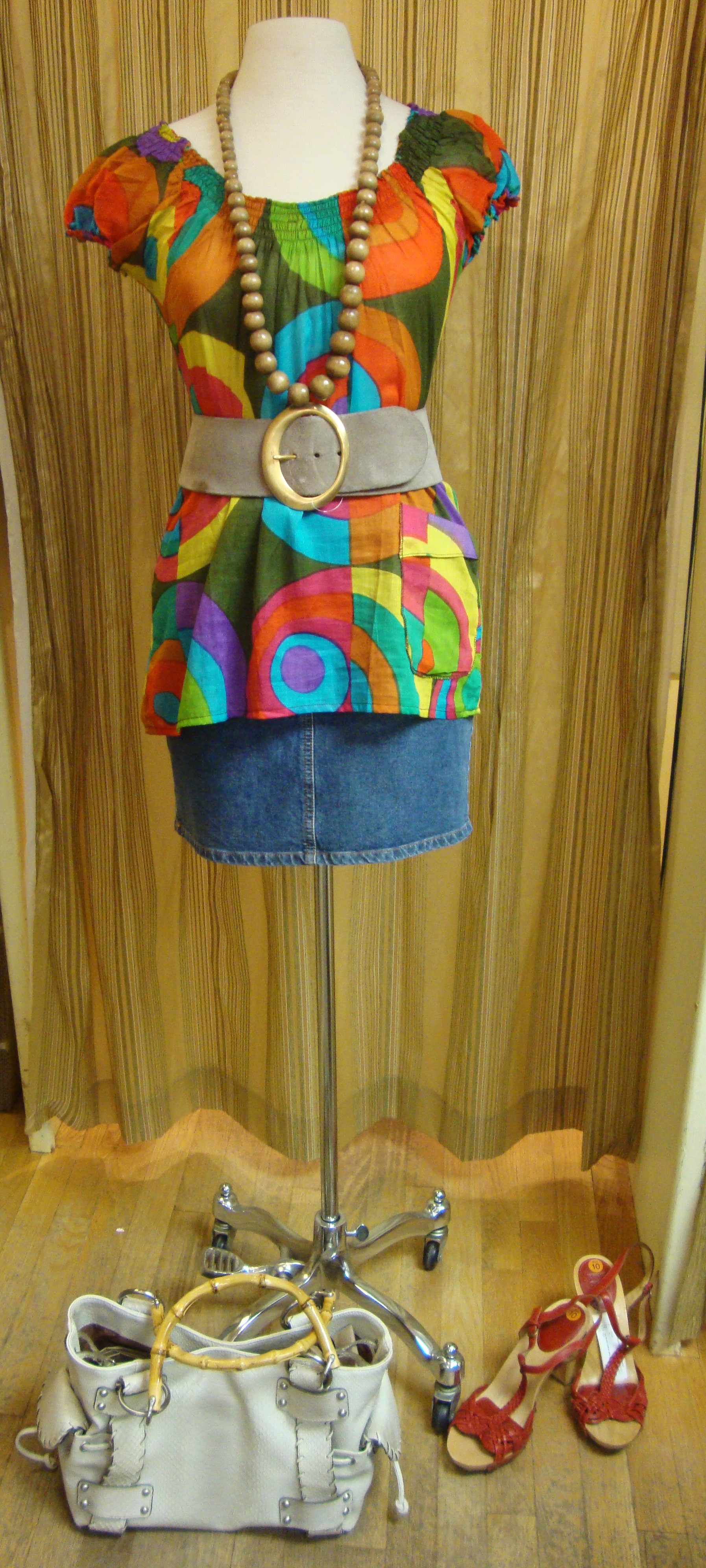 Top: Dharma Imports (size S) $24 — NWT! / Jean Skirt: Theory (size

$35 / Suede Belt: $15 / Wooden Bead Necklace: $14 / Bag: The Limited $25 / Sandals: Frye (size 10) $59
~Kim, Store Manager-Harvard Square/FashioniSTA