Posts tagged
sisters
It was well worth it ladies. Black Friday was everything it promised to be, and more.  50% off everything? Are you serious?  Needless to say we had some trouble controlling ourselves. But that's what Black Friday is for.
Once the floodgates opened at 7am I went straight for the shoe department. I certainly scored there, Marc by Marc Jacobs heels, BCBG wedges, and Delman flats! (some shoes you just have to wear out of the store…)  Both the Marc Jacobs and the Delmans were a steal for just $50 (85% off their original retail prices!), I could hear the choir singing with rejoice.

Despite all of our planning, nothing could truly prepare us for the big day.  Now cradling my shoes, I got a bit frantic during the next phase of my attack, running from rack to rack of clothing trying to find my size.  There was no time to waste, I had to fish through before someone else grabbed the Chanel dress of my dreams.  And like taking candy from a baby, my dress went home with another girl.  Hard to complain, I still left with two beautiful tops, an STA statement necklace and cocktail ring!  All together it came to under $70.  I'll take it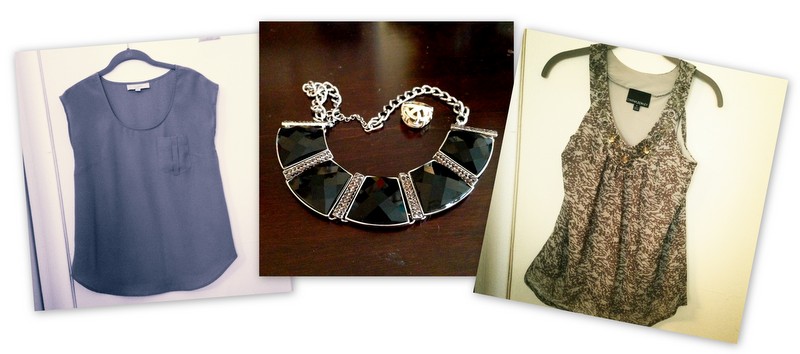 Unsurprisingly, the girls managed to clean up as well, with a beautiful Moncler coat for $150 and Charlotte Olympia flats for $75 (again, both were almost 90% off their retail price). It's a Black Friday miracle.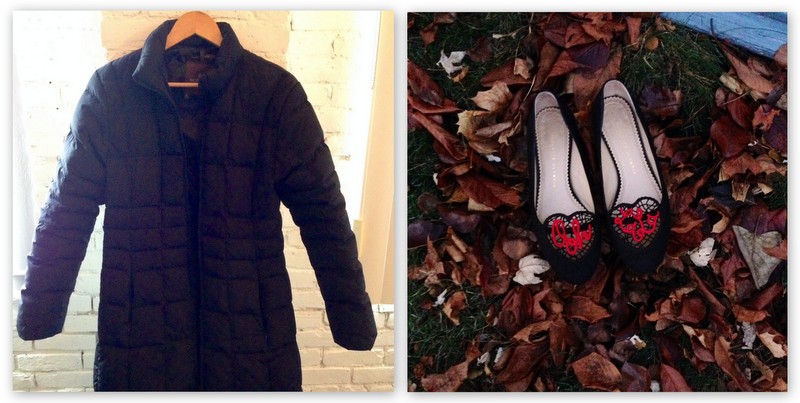 While we definitely managed to rack up a grand total, it was more than worth it.  It's the one day of the year where you can go a little crazy.  Besides, on Black Friday, what happens in STA stays in STA.
Around the middle of November, I have a little extra spring in my step. Right around the corner is the most wonderful day of the year: Black Friday. Since the bigger retailers now start their sales on Thanksgiving night, it gives me the perfect opportunity to get my general gifts out of the way and spend the rest of the day making the world (and my closet) a more stylish place. STA always runs a big sale for a couple hours in the morning, so I'm gearing up to shop the best for less for my closet and a select number of gifts for my most fashionable friends. For the next couple of weeks, you can get the inside look at our extensive planning process!
Countdown: 14 Days…let the planning begin!
Taking on a sale of this magnitude is impossible to do alone, so I've enlisted the help of my best shopping buddies.
Meet the Team

Anne
Strength: Quick and efficient shopper.  Can sort through an entire store's inventory in record time to capture the best, hidden pieces.  She knows what she does and doesn't like and won't waste any time over something that isn't absolutely perfect.
Style: Classic with a touch of chic
Go-to's: Jackets and Jewelry
Jeanne and Catherine
Strength: Two shoppers in one.  Jeanne and her sister are an inseparable pair, so we let them go do their sister takeover of STA.  With twice the eyes, twice the hands, and twice the style expertise, they are unstoppable when it comes to Black Friday.  Don't try to battle them for a piece.  They will win.
Style: Sophisticated and trendy
Go-to's: Shoes and Handbags
Laura
Strength: Pro gift-giver.  Laura has a knack for knowing exactly how to match personality to style, both for herself and her friends.  When I'm ready to take a breather after snagging my own pieces, I'll definitely be going to Laura for help with picking out gifts for the rest of the girls. (And my mom on speed dial of course.)
Style: Preppy and Feminine
Go-to's: Dresses and Tops
We've got a great team assembled, but it's still essential that my black Friday execution is flawless and foolproof.  The girls agree that we'll hit the three STA locations on Newbury street.
Route
: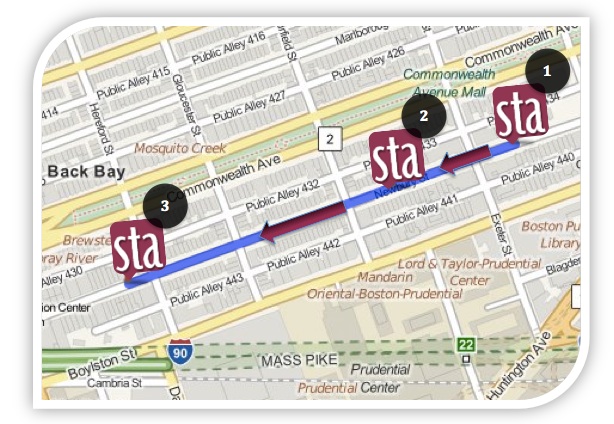 1)   176 Newbury St. Boston, MA
2)   219 Newbury St. Boston, MA
3)   324 Newbury St. Boston, MA
Can't forget to factor in walking times! Calculated a 3-minute walk from STA (1) to STA (2).  6-minute walk from STA (2) to STA (3). And since I'm hoping Starbucks won't be as crowded as usual, we've budgeted in a five minute coffee break in between stores two and three.
Bonus tip: We've already started our seasonal Black Friday work-out plan, walking two miles a day to build up our stamina for the real event.
Check back in with us next week as we tackle our closets and holiday gift lists to come up with the perfect Black Friday shopping list!