Posts tagged
blazers
It's the new year fashionistas!  And that means a time to start fresh.  No doubt, 2013 served us well with many memorable trends.  Peplum tops, colored pants and statement necklaces were loved by all.  But with the new year comes new resolutions.  It's time to venture out of our beloved trends and explore new styles.  For 2014, we have a few style resolutions of our own.
1. Venture Outside of Riding Boots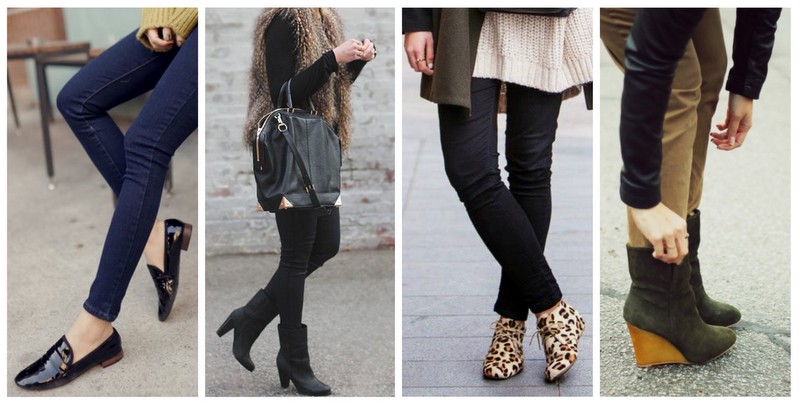 By no means do we mean stop wearing them.  Leather riding boots are a necessary staple of any wardrobe.  However, it's time to stop relying on them for every outfit.  There are so many shoes and so many styles, why should we limit ourselves to tall boots (especially in the winter).  We particularly love trying a lower rise boot or wedge booties for a similar yet unique style.  And don't forget about loafers, flats or heels!  in 2014, we're all about stepping out of our style comfort zone and giving the rest of our shoes some love.
2. Experiment With Mid-Length Skirts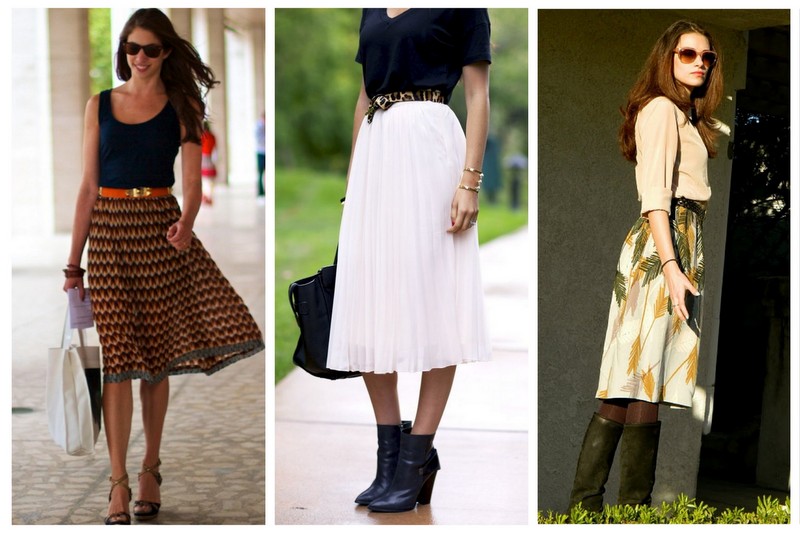 We've all loved maxi skirts and our fair share of the mini.  But what about the neglected middle child?  Mid-length skirts are whimsical while modest and sophisticated. Pair with a cardigan for a sweet and almost vintage feel, or go with a leather jacket for a sartorial look. Give them a try in any season!  We're loving this new trend.
3. Wear More Blazers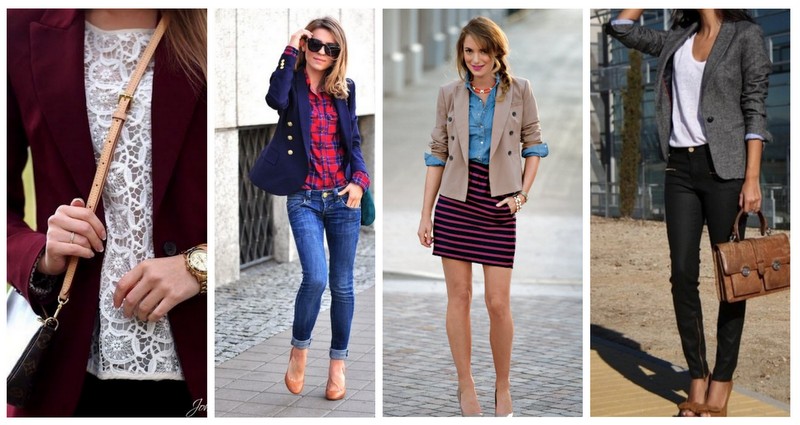 Blazers are perhaps the easiest way to turn any casual outfit into a chic ensemble.  Having just one or two in your wardrobe offers endless mix and match possibilities.  A blazer can complement every item in your closet and instantly adds flair to any outfit.  Even pair with a tshirt and jeans for an effortless daytime outfit.
4. Flaunt Pastel Pieces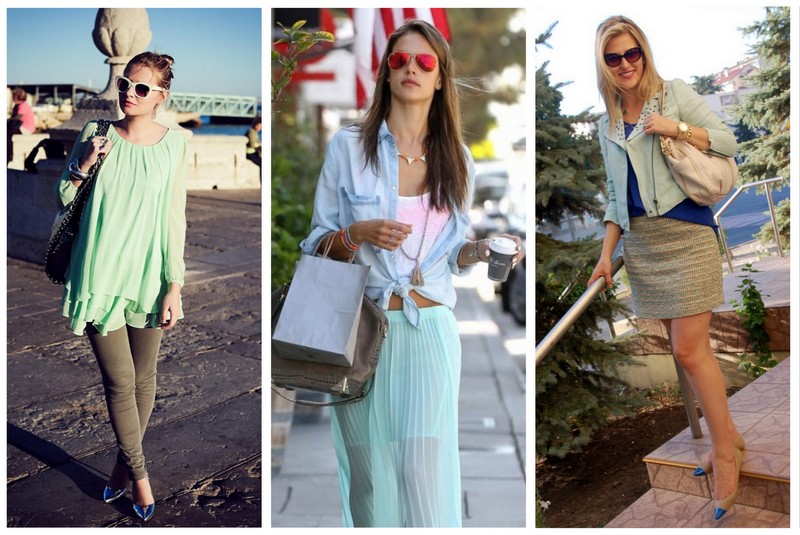 2014 is bringing back pastels in full force.  We love pastels for their undeniable feminine flair and positive energy, and they're not just for springtime (pastel leather anyone?).  Pastel jewelry and skirts are two pieces we'll be sure to try this year.
We're looking forward to 2014 and the fashion it brings!  But for now, we'll try to keep these new year's resolutions.  Happy New Year FashioniSTAs!
All photos from pintrest.com
All Wrapped Up: 3rd, 4th, 5th & 6th Days of Style
To keep with the season of giving, we're wrapping up four days of style in a neat little blog bow. Whether you were camped out in front of a Hallmark holiday movie this weekend or burning the shopping candle at both ends, here's some holiday style cheer to brighten up your look into the new year!
Third Day of Style – Primp Your PJs
Styling your sleepwear isn't just for opening presents on Christmas (or Hanukkah) morning. Although you might not have a photo-op every morning to make you jazz up your jammies, investing in nightwear doesn't have to begin and end with what you wear out of the house.
Of course it's easy to throw on sweatpants and a t-shirt and hop into bed. However, it's just as easy – and comfortable – to throw on a satin pajama set, they're all elastic-waist! If you're hesitant to give up your t-shirt, I sympathize with you, so start small. The best part about stylish pajamas is the fact that they pretty much look the same on everyone. You can grab a pair of printed PJ pants or shorts from a bunch of stores, no matter what your age or body type. From Aerie to Victoria's Secret to Neiman Marcus, you can stock up on your favorite patterns and fabrics without having to empty your bank account. Go with classic satin with contrast piping for a timeless winter vibe, or bold floral to infuse some warmth into the season, or try a quirky print by Primp to liven up your bedtime routine. For an extra dose of style, slip on a pair of lined slippers that look more like ballet flats for a polished look.
With just a quick change, I can pretty much guarantee that you'll feel better when you wake up in the morning. Another perk? You won't be embarrassed staying in your pajamas all day, don't pretend you actually like putting in the effort to get dressed when the weekend comes. And who knows, maybe this will inspire you to host sleepover parties (what, you thought that you were too old for them?).
Fourth Day of Style – Braid Your Own Way
Braids have been popping up everywhere, from the runway to the red carpet to my house when my sister is there. This is another easy trend that anyone can try, plus it's versatile enough to go from day to night.
To easily try out this trend, you can take a small section of hair from anywhere on your head, braid it, secure with a small elastic and you're done. How easy was that? Try it out at first on a section behind your ear to take it slow, or work a piece in front for a bohemian look. If you know how to French braid, expand on the single braid by taking a small section right at your ear and do a tiny French braid that curls behind your ear. Part your hair to the opposite side and you've got a classic style with a twist.
To take it to the next level, you can step into the French and fishtail side of the trend. Tons of celebs – from Kristen Stewart to Miley Cyrus – have been stepping out in a low fishtail braided to one side and styled in front of the shoulder. If fishtails aren't your thing, take a French braid into nighttime by braiding one side of your hair, stopping at the nape of your neck and gathering all of the hair into a low ponytail a la Rachel Zoe. Go asymmetrical by doing a large braid on one side, a smaller braid on the other and gathering both into the ponytail.
For the advanced hair connoisseur, go with multiple braids styled into an up-do for a unique and fresh look. You can French braid a couple small sections across the front of your hairline, then finish off the look by pinning everything into a low, tousled bun like Rachel McAdams (flower optional).
Whether you go with a basic low braid over your shoulder or an intricate French-braided up-do, this trend is a great way to subtly upgrade your regular hairstyle!
Fifth Day of Style – Stack 'Em Up!
If you think wearing one piece of jewelry is fabulous, adding more will onlymake you exponentially more fabulous! (It's math.) We've all seen the girls who wear an armful of bangles and look like they just stepped out of Harper's Bazaar. Well, now with just a few additions, you can look just as good.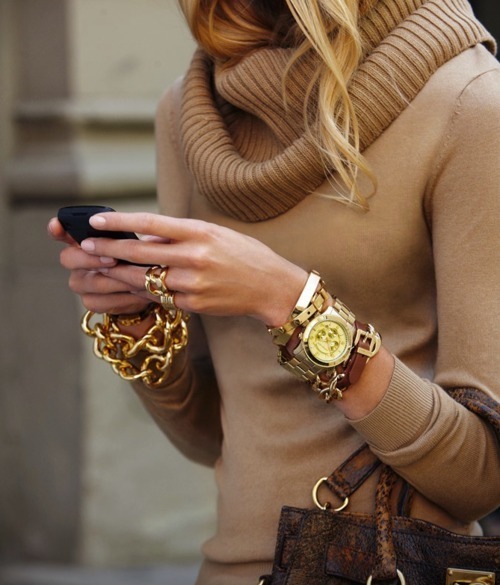 To try this trend inexpensively, first look to your own jewelry stash. Take a few bangles and put them together, making sure to mix up widths and textures. Go bold by mixing metals or keep it classic with similar color schemes and a single bright bracelet mixed in. There's also so many ways you can wear a watch or a statement bangle, but if you pair either with a couple of thin bangles in a similar color scheme, you've got a fresh new look. If you happen to have a couple of really nice bracelets, those can look great as well in smaller groups so that each piece still gets to shine.
Got a bunch of thin rings lying around that you never wear? Stack three or four of them – depending on width – on a single finger and you've tried out the trend from your own jewelry box. You can also seek out stackable rings pretty easily, just look for bands in a uniform shape all the way around for maximum stacking potential.
This is an easy tweak for any ensemble, and it instantly makes you look chic with a few simple additions. Voila! You're making the most of your accessories and spicing up your normal outfits.
Sixth Day of Style – On Dasher, On Dancer, On…Blazer
In the fashion reindeer lineup, Blazer would be guiding the style sleigh. I would not be exaggerating to say that wearing a blazer has simultaneously improved my style and made it a thousand times easier to get dressed in the morning.
A blazer is like an instant style-maker that can work with any outfit and make you look put-together at a moment's notice. Feeling uninspired and just want to something easy? Throw on jeans, a tank and a blazer. Want to be comfortable? Leggings and a jersey tunic might make you look slightly homeless, but you pair a blazer with this combo and suddenly you're a style star. Modernize a shift dress by throwing one on and adding stackable jewelry (see above). Even going out at night, arming yourself with a blazer makes you unstoppable. Pair a cropped version with a sequin dress to tone down the sparkle, or invest in a sequin blazer to pair with a basic black ensemble for a nighttime event.
Easy chic at its best can be found in the form of one article of clothing. And with about a bazillion different versions, anyone can find one that works.
Did you try out any of these trends and want to share the results? We'd love to see! Post on our Facebook page (www.facebook.com/staconsignment) or Tweet us (@STAconsignment) with photos or comments!
~Ashley, FashioniSTA