Posts tagged
resolutions
It's the new year fashionistas!  And that means a time to start fresh.  No doubt, 2013 served us well with many memorable trends.  Peplum tops, colored pants and statement necklaces were loved by all.  But with the new year comes new resolutions.  It's time to venture out of our beloved trends and explore new styles.  For 2014, we have a few style resolutions of our own.
1. Venture Outside of Riding Boots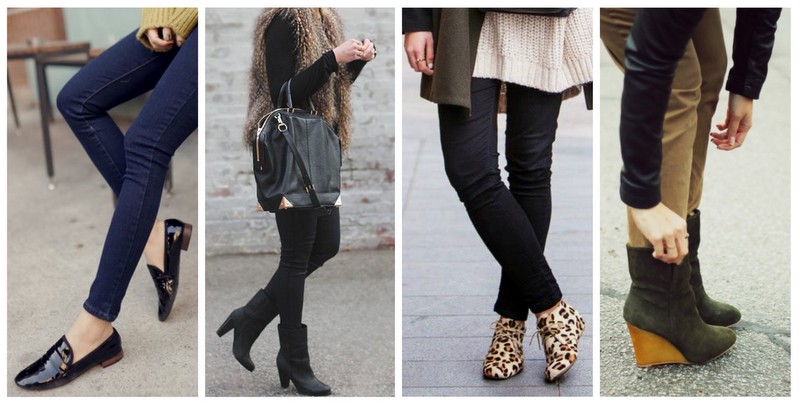 By no means do we mean stop wearing them.  Leather riding boots are a necessary staple of any wardrobe.  However, it's time to stop relying on them for every outfit.  There are so many shoes and so many styles, why should we limit ourselves to tall boots (especially in the winter).  We particularly love trying a lower rise boot or wedge booties for a similar yet unique style.  And don't forget about loafers, flats or heels!  in 2014, we're all about stepping out of our style comfort zone and giving the rest of our shoes some love.
2. Experiment With Mid-Length Skirts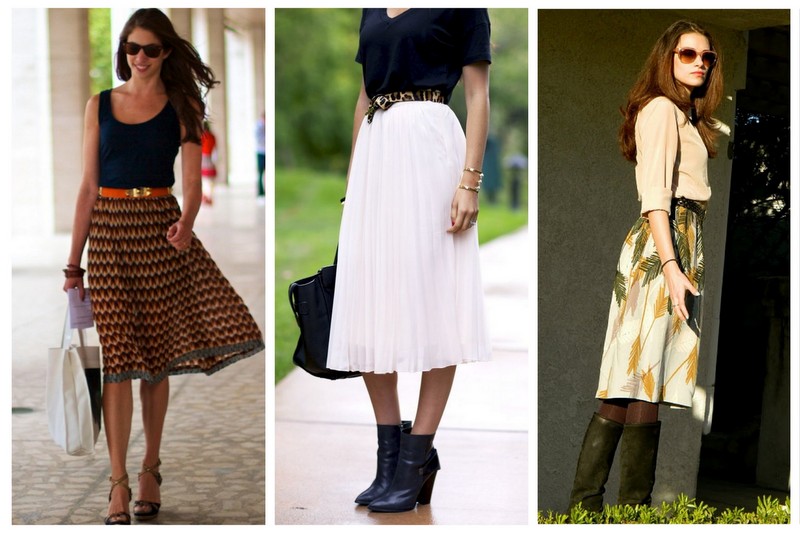 We've all loved maxi skirts and our fair share of the mini.  But what about the neglected middle child?  Mid-length skirts are whimsical while modest and sophisticated. Pair with a cardigan for a sweet and almost vintage feel, or go with a leather jacket for a sartorial look. Give them a try in any season!  We're loving this new trend.
3. Wear More Blazers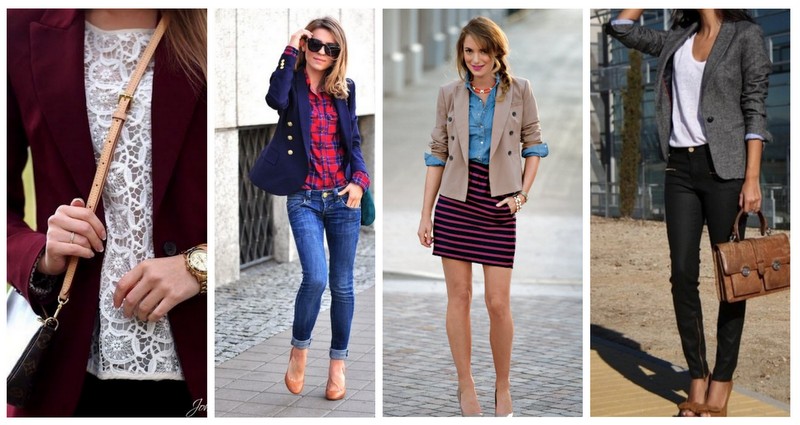 Blazers are perhaps the easiest way to turn any casual outfit into a chic ensemble.  Having just one or two in your wardrobe offers endless mix and match possibilities.  A blazer can complement every item in your closet and instantly adds flair to any outfit.  Even pair with a tshirt and jeans for an effortless daytime outfit.
4. Flaunt Pastel Pieces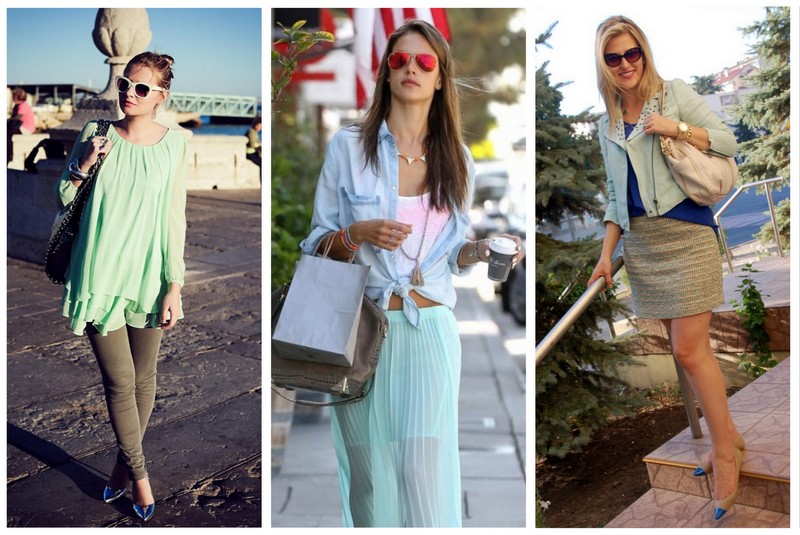 2014 is bringing back pastels in full force.  We love pastels for their undeniable feminine flair and positive energy, and they're not just for springtime (pastel leather anyone?).  Pastel jewelry and skirts are two pieces we'll be sure to try this year.
We're looking forward to 2014 and the fashion it brings!  But for now, we'll try to keep these new year's resolutions.  Happy New Year FashioniSTAs!
All photos from pintrest.com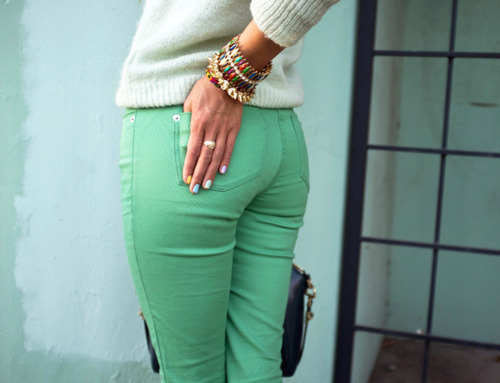 Look at a photo of yourself from five years ago. Did you just wear that same outfit last week? If so, maybe your resolution should be to infuse a little freshness into your wardrobe. New trends don't have to be difficult or fussy, making just a few fashion swaps can brighten your wardrobe and help you put together outfits that are easy yet stylish.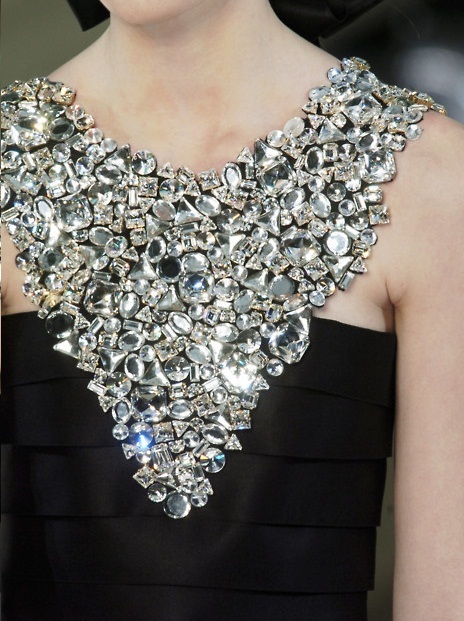 The key to leaping into the fashion pool is to take it slow. Pick a trend that's easy, such as sheer details or statement necklaces, and incorporate it into an outfit that you already wear. Adding or substituting just one piece can instantly brighten your look and open up your perspective on expanding your style. Don't feel like you have to wait to try a trend with a specific outfit, just start with a neutral outfit and add a trendy piece to the mix. You can try the tuxedo trend with a tux-inspired blazer, a white t-shirt and a pair of jeans. Or you can pair patterned tights with a basic sweater dress for a basic look with a twist. For those who are cautious about trends, it's all about easing into them.
An easy way to try out a new trend is to do so in black. It's a safe bet when trying something new, since it goes with everything and tends to mute louder trends while staying chic. For instance, if you'd like to try out wearing colored denim, pair your pants with a black top, shoes and accessories, ensuring that your look won't be too busy or overstated. Or take a black tweed blazer and a black pair of pants and accent them with an oversized statement necklace to take on this trend. As you begin to get more comfortable with trying out new trends, you can take it up a notch. You can integrate these pieces with more complex and monochromatic outfits, mixing textures and even incorporating more than one trend into your ensemble. Before you know it, you'll be color-blocking your purple jeans with your red sweater and a blue belt.
An important point about trying new trends: Don't spend your whole shopping budget on these items. If you realize that you don't like it or it quickly goes out of style, you'll be happy that you stuck to a budget and bought an inexpensive version. Where's the best place to try out trends for less? Second Time Around, of course!
Have you tried out a trend recently? Let us know about it on Facebook (www.facebook.com/staconsignment) or on Twitter (www.twitter.com/STAconsignment)!
~Ashley, FashioniSTA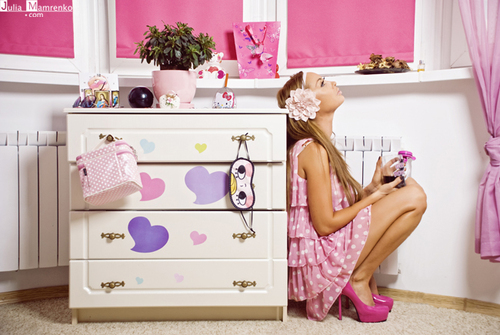 Closet full of clothes and nothing to wear? That seems to be a common problem among the style-savvy, even those with stuffed closets big enough to rent out as a spare room. The best way to start with this is to make sure your wardrobe is organized (see our first style resolution blog post for tips). Once you've completed that, key pieces that could put together an outfit won't be lost in the back of your closet. Put items that you'd like to wear but never do in the front of your closet to help you keep them in mind for all future outfits.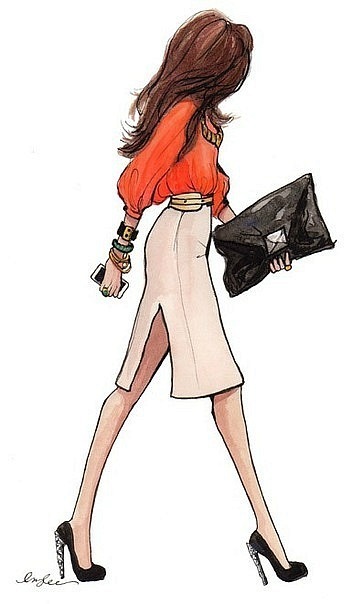 Also, look at the pieces that never seem to make it into your wardrobe rotation and figure out why. It could be that there's a missing puzzle piece, like the right tank or accessory, to pair with the garment to make it wearable for you. This year, resolve to fill some of those style holes by picking up pieces that will complement and complete items that you already own, saving you money and helping you to get the most of what you have! You could also not be wearing these items because you don't know how to style them. To help with this, next time you're perusing through a magazine or you're surfing Pinterest, be on the lookout for how people style similar pieces. It could inspire you to pair your own items with a color or accessory you never thought of before. If the pieces that you're not wearing just intimidate you, this is the year to break them out! Become fashion fearless in 2012, you can always pack a backup outfit just in case.
Since Kate Middleton fluttered into our lives, repeating outfits has not only become acceptable, but it's encouraged. To increase your chances of wearing the same pieces over and over, make sure you're taking care of them in the best way possible. Start with a quality laundry detergent, even if you only plan on using it for delicate items (you can still wash your sports bras and t-shirts with the bargain brand). Try Woolite or any green detergent, like Mountain Green, none of which will harm items that are categorized as "delicate." Wash color-saturated items inside out (such as denim) to prevent fading, and always hang these items to dry. To keep bras in their best shape, wash them in a lingerie bag rather than just throwing them in the washing machine. These bags cost about as much as a candy bar, and you probably already have one in your house. And remember, the dryer should only be used only for items that you wear to work out.
How do you make the most of your closet? Tell us on Facebook (www.facebook.com/staconsignment) or on Twitter (@STAconsignment)!
~Ashley, FashioniSTA